IHMVCU Receives BBB's Torch Award for Ethics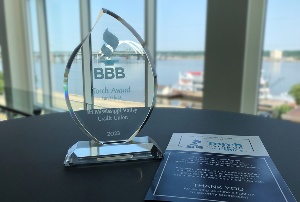 Recently IHMVCU received the 2023 Torch Award for Ethics from the Better Business Bureau (BBB). The award celebrates businesses and nonprofits that demonstrate an exceptional commitment to ethics and integrity in all business interactions.
"This award wouldn't be possible without the 450+ team members that make up IHMVCU," said Brian Laufenberg, IHMVCU President & CEO. "They work every day as advocates for our members and find ways to help reduce their financial stress and reach their financial best."
To be eligible for the Torch Award for Ethics, organizations must be nominated by the community and then complete a rigorous application process. They're judged on criteria based on the BBB's four Cs: Character of the organization's leadership; if and how an authentic Culture is being fostered; the company's transparent relationship with its Customers; and the impact the organization is making in the local Community.