Our employees are actively involved in their communities.
At IHMVCU, we're dedicated to improving the financial-wellbeing of our members and the communities we serve. Our employees are actively involved in their communities—last year they donated more than 1,200 hours of service and raised more than $15,000 through bake sales, raffles, casual days and personal contributions for community organizations and non-profits.
On a corporate level, we remain committed to serving areas with significant gaps in services. Specifically human services, military, and youth and education.
Community Development Financial Institution
In 2015, we received Community Development Financial Institution (CDFI) designation, allowing us to create partnerships and collaborations to tackle rising poverty in our communities. We actively serve low-to-moderate income households with an array of traditional and non-traditional financial products and services.
As a credit union with Low Income Designation (LID) we're looking out for those communities that need our service the most. We believe that providing credit is one of the best ways we can help members and their communities grow and prosper. We use your deposits to lend and invest in local businesses, organizations and initiatives that support economic development, financial education and impact poverty drivers.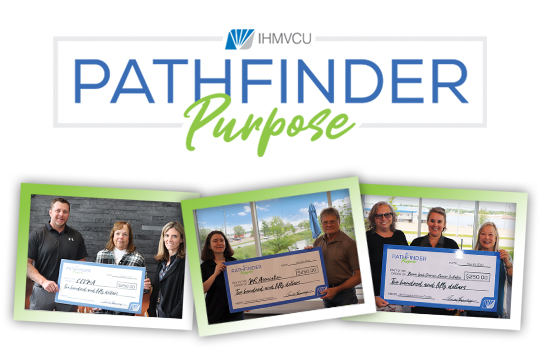 Scholarships
Since 1999, IHMVCU has invested more than $300,000 in scholarships for 256 students who stand out in the classroom and stand up in their communities.
Quad-Citizen Award
In 2019 and 2020, IHMVCU and the Quad-City Times partnered to present The Quad-Citizen Award.
Donation Requests
We welcome the opportunity to sponsor initiatives that support human services, military, and youth and education. If your organization needs assistance, please submit a donation request form.
Joining is easy
IHMVCU membership is open to any person living or working in our 49-county service area and their families. There aren't any rules about where you work, who you know or what organizations you're affiliated with. We're a community credit union, and that means being a part of our community is all it takes to join us on the path to financial success! There's not even a special handshake (but we can make one up, if you want).