Wedding Bells and How to Pay for Them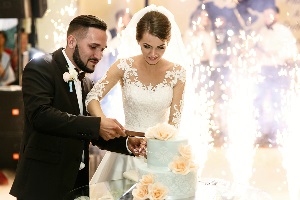 Our son purchased the ring, gathered his courage and asked the biggest question of his life. Tears of joy all around and a date was set.
Wedding bells would soon be ringing and we needed to figure out how to pay for them. Although some people are great planners and set up special financial accounts to help offset big-ticket items, weddings — unlike your child's college education — aren't something you immediately think of preparing for. We fall into that category.
Life's everyday distractions, like watching for those first steps or attending the kindergarten holiday program, didn't really nudge us into thinking about our son's "big day." And yet, the average wedding costs just under $34,000, according to The Knot.
Fortunately, a lot of today's couples are waiting until they've established their careers before they say their "I dos." Like our son and his future wife, these couples are financially more stable and able to share in covering the cost of a wedding. In addition, the ties to tradition have loosened and costs are being shared more evenly among both sets of parents, as well as the bride and groom. But, whether the bells to your child's wedding fall into any of the mentioned scenarios, there will still be some costs to cover.
So how did we maneuver through the maze of helping to pay for the wedding without breaking the bank?
We set a budget
First, we established a budget that responsibly worked for us and didn't derail our own savings goals. Because we weren't the sole financial providers, it was important to let the happy couple know how much money we could put toward their big day. This allowed them to know what their overall budget was and helped dispel any unrealistic expectations — and kept everyone happy. After all, you can't plan a sit-down dinner for 350 people if you aren't financially able to pay for it.
Although most of the planning was in their very capable hands, we discovered a few tips to help them squeeze the most from their budget.
The date: Consider a day other than Saturday
We found that some reception venues offered the same sit-down dinner for a lot less money if you choose a day other than Saturday. This holds true for other vendors as well. If there is less competition for their services, you'll have better luck negotiating rates. Booking a venue for a Thursday is 17% cheaper on average than a Saturday night, according to Tina Hoang-To, CEO and co-founder of Wedding Spot.
Worried about turnout if you pick a weekday? With remote work now more common, your guests may have more flexibility in their schedules to attend a wedding during the week.
Make sure you understand all pros and cons before you choose your date. Wedding Spot has some great tips.
The guest list: What's the magic number?
Personally, I think it's tucked somewhere inside the buffet line. According to The Knot, to be safe, you should plan on $75 per person. If you choose a buffet-style meal, you can save 25%. These numbers will obviously vary depending on the food items you choose, your location and of course the day of your wedding.

Then there's the bar. We knew we wanted to offer an open bar for our guests, but that alone could put a huge dent in the budget. To calculate an estimated hard cost, assume an average drink price of $5, then multiply that by the number of drinks you estimate your guests will drink. You know your guests, so if they're average drinkers probably six per guest would be a safe number. If your guest list is 150, and each guest is allotted six drinks at $5/each, your open bar budget should be around $4,500.

With the cost of an average open bar at a wedding accounting for 10–20% of the wedding budget (eventplanning.com), this is definitely one area where you can save by not providing alcohol for your guests. Or, by setting a limit, and once you reach the limit, guests start paying on their own.
After reviewing the above higher-ticket items, you may want to rethink the guest list and get it down to a number that fits into your budget. Make a list with those you "must" invite — family and close friends — and a list of those who are optional, like colleagues, old neighbors and distant cousins.


Additional items to budget

When creating your budget, don't forget to factor in costs for:

Flowers
Typically, flowers take up 8-10% of the wedding budget, or approximately $3,500 (WeddingWire.com), but these costs will vary depending on the season and the choice of flowers. Your florist knows best – ask them for flowers within your price range. This includes the bride's and bridesmaids' bouquets, corsages, boutonnieres, ceremony decorations and centerpieces.


Wedding Cake
On average, a wedding cake costs between $350 and $450, and bakers charge between $2.50 and $8 per slice (Thumbtack.com). Again, this pricing all depends on the size, number of tiers and how intricately it's decorated.


Photographer
A wedding photographer today hovers around $2,500 according to The Knot. Usually this cost will include an album(s). The more seasoned your photographer, the more you'll pay for their services.


We were lucky and had a year and half between our son's engagement and the actual wedding day, which gave us a little time to set aside some extra money into a wedding fund. Discuss creating a budget with an IHMVCU representative. They would be happy to review your current spending and help you set up a plan to build a fund that will soften the path when it comes time for your child to walk down the aisle.
We're not wedding planners, but we're here to help. Our financial Pathfinders can walk you through your savings options and other financial factors when it comes to helping plan and pay for your child's wedding.