One couple's journey to their homeownership dream - Part 3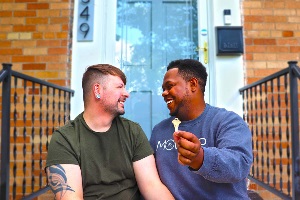 If you haven't already, read up on where we started with Keenen and Travis in part 1 and part 2 of this series.
Thirteen months of strict budgeting and planning (and still going…).
Too many hours to count of scanning Trulia.com.
And multiple tanks of gas from driving around...and around different neighborhoods...
brings us to September 17, 2021.
(Keenen): It's 9 a.m. and we're rushing out the door to get to our local IHMVCU branch. We walk briskly in the door and get in line. Not seconds later a few others line up behind us (phew!).
We finish our transaction, say goodbye to our teller, hop in the car and proceed to take a wrong turn out of the parking lot…which then changes our entire route. Great.
Luckily it still put us at our destination JUST in time. With the seller's realtor, our realtor and the notary, we got to signing right away. And after about 10 signatures, I started to forget how to sign my name...
IT'S CLOSING DAY.

Before we celebrate, let's rewind to how Keenen and Travis got to this exciting day.

Last time I talked with them , they were almost ready to re-apply for pre-approval. Keenen ended up getting pre-approved. At this point in time, Travis is unable to be on the loan. Yes, Travis' credit score increased substantially, but it was smarter for them to use just Keenen's score when reapplying to get a lower interest rate on the loan.
So what was the point of all the work Travis put into increasing his score? Other than the fact that increasing your credit score is good for your financial health overall, they already have plans to refinance from the FHA loan to a conventional loan in both their names. W ith Travis on the mortgage, he'd obtain credit for the mortgage payments too.
In addition, transferring their FHA loan to a conventional loan at a later date might help them eliminate FHA mortgage insurance premiums (MIP). MIP is similar to PMI on a conventional loan - it's insurance you pay, which protects the lender from loss if you can't repay the loan.

With their pre-approval on an FHA loan, it was time to find their perfect house…within budget, of course.
How do you know what's truly in budget?
Before Keenen and Travis made any offers, they made sure to talk to their IHMVCU Mortgage Lender, Tasia.
Tasia helped them to truly understand the total cost of purchasing a home. "We learned it's more than just the down payment and monthly mortgage payment. It was important for us to understand all of the costs so we then could understand what we could truly afford," said Keenen.
Keenen and Travis went as far as to send Tasia the house(s) they had in mind, and she provided them with the following:
Percentage rate of their new mortgage to estimate the payment on a specific home
New principle and interest payment
Estimated escrows for the home (taxes, insurance and PMI)
Estimated closing costs, and prepaids to be paid at closing with their down payment

This information prepared Keenen and Travis in knowing their upfront costs to purchase the home and their estimated monthly cost to ensure they were ready with a downpayment AND their monthly costs were within their budget.
How do I even start a conversation with a lender?
If you're unsure how to even start a conversation with your lender, Keenen and Travis have some good questions for you to kick things off:
Can you walk us through what's preventing (name) from being considered on the loan? What specific items are hindering their credit and what would need to be taken care of first in order to get us closer to the goal?
What programs are available for first-time homebuyers?
What are the qualifications for a conventional loan vs. an FHA loan? What are the advantages and disadvantages of having one over the other?

Keenen and Travis acknowledge they've been lucky because of the additional resources afforded to them by one simply being an IHMVCU employee. They aren't experts on the ins and outs of homeownership, but knew where to look for help. So if you don't know where to start, call a mortgage lender.
"We want to help you understand all your options to not only make the home-buying process stress-free but also to provide you with the best fit for your lifestyle and budget," says Tasia.
Schedule a meeting with Tasia or one of our mortgage loan officers to get started. Then take advantage of GreenPath - a free financial counseling resource we offer for members.
GreenPath really helped Keenen and Travis kick off this entire journey and gave them the confidence they needed when it came time to apply for pre-approval and finally make it to September 17 – the day they closed on their first home.
One final tip we've got for you…
The key to getting the keys is — you guessed it! — having good credit.
Congratulations on the purchase of your first home, Keenen and Travis!
Keenen and Travis' favorite Greenpath resources:
https://www.greenpath.com/financial-health-assessment/
https://www.greenpath.com/first-time-homebuyer-costs/
https://www.greenpath.com/mortgage-and-interest/
I want to personally thank Keenen and Travis for their openness and vulnerability throughout this series. They sincerely wish to help others and hope their story did just that.