Is college in your teen's future? Learn about upcoming changes to the FAFSA form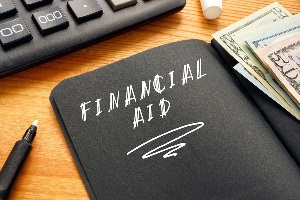 The latest version of the FAFSA form arrives Oct. 1 and will be for financial aid awarded for the 2022-2023 academic year. Big changes are coming to the notoriously complex form, but don't get too excited yet. The changes will happen gradually – most after this next academic year.
Who or what is FAFSA?
FAFSA, short for Free Application for Federal Student Aid, collects financial details about students and their families and acts as a portal to grants, scholarships and loans for higher education.
It's recommended that every student, regardless of income, who wants to borrow federal student loans (also known as Stafford or Direct student loans), fill out the FAFSA to get access to these loans.
Top six changes you can expect for the new FAFSA application for the 2022-2023 academic year according to StudentAid.gov:
The online FAFSA form will have a visual update and a similar look and feel to the rest of StudentAid.gov.
Users will be able to select their specific role—student, parent, or preparer—before they start the form.
The help topics have been updated to include all current exceptions for filing a Schedule 1. This will be especially helpful to parents and students who don't use the IRS Data Retrieval Tool (DRT) to input their tax information.

"Virtual Currency" will be removed as an exception.



Drug convictions no longer affect federal student aid eligibility.
You're no longer required to register with Selective Service in order to receive student aid. However, students can still register for Selective Service through the FAFSA form.
Most major changes will be put in place for the 2023-24 or 2024-25 academic years with the overall goal of making applying for financial aid EASIER; which in turn will increase completed applications and expand aid eligibility for lower-income students.
If you've got a high school senior heading to college next year or a current college student, make sure you get their application in as soon as possible.
Deadlines for the 2022-2023 academic year are as follows:
Federal: June 30, 2023
Yes, you read that right. You can technically go through your entire year at college before accessing the FAFSA form. However, a few federal student aid programs have limited funds, so be sure to apply as soon as you can.
State: July 1, 2022


If you're like most, you'll want some help filling out the form. StudentAid.gov is a good resource.
Need more help? Feel free to schedule an appointment with one of our Financial Coaches at one of our branches. Go to our homepage, and click "Schedule an Appointment" at the top.
And don't forget! IHMVCU offers $30,000 in scholarships to local undergraduate, graduate and vocational/technical school students who stand out in the classroom and stand up in their communities. We'll begin taking applications for the 2022-2023 school year in January 2022.