Improve your credit score in 5 steps - Step 4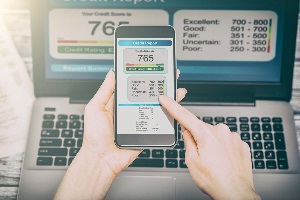 You're on a roll! Credit report review - check. Paying towards debt with the highest interest rate - check. Paying your bills on time - check. Let's see what Step #4 has in store.
4. Keep balances low High balances on revolving debt like credit cards can impact your score. Part of your credit score is your credit utilization. If your credit card has a limit of $2,000 and you have a $1,000 balance, you're utilizing exactly 50% of your credit. You should aim to use about 20% of your credit or less. Your credit utilization is calculated across all of your revolving debts, so consolidating or moving balances between cards generally won't help improve this ratio.
Another point to stress as it relates to keeping balances low is to accept credit limit increases.
I can't stress this enough before elaborating on this point, though: only accept credit limit increases if you won't use your new, higher limit as an excuse to spend!
Okay, now that that warning is out of the way, if you pay off your credit card monthly and only charge what you can afford to spend, a credit limit increase can help improve your credit score. It has to do with two things: credit utilization (which we mentioned above) and your trustworthiness as a borrower.
If you have the same $1,000 credit card balance as I mentioned earlier but your card limit is raised to $5,000, your credit utilization ratio drops to 20% (it was at 50%). Remember, a lower ratio leads to a higher credit score.
On the other side, the more money a lender is willing to give you is a pretty good sign of how much they trust you. A higher credit limit signals to other creditors that you're a trustworthy borrower.
Stay tuned next week for Step #5.