Top Ten Home Improvements That DON'T Increase Property Value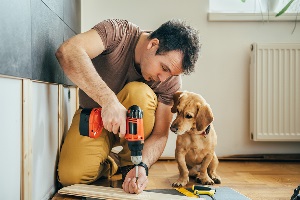 I may be in the middle of a DIY basement renovation… but hear me out. I did research, research and more research. Plus, I'm not planning to move any time soon, so the value it adds to my family while we're living in it, makes it worth it for us. That said, before jumping into a big home renovation project, make sure it's going to add enough value. Whether that's resale value or personal value to your family as YOU live in the space. And think twice before doing ones of these renovations:

Pro tip: Check with your real estate agent to see how much value a planned reno would add to your home.

DIY projects

Three words: Proceed with caution. It might seem easier (and cheaper) to remodel your bathroom yourself, but it takes a lot of planning, hard work and craftsmanship to do it right.


Garage conversions

Converting a garage to a living space costs homeowners an average of $10,000 — with very little return. That's because most buyers, particularly those who experience colder winters, prefer a functional garage to an extended living area or home office space.


Solar panels

Solar panels are a great way to reduce your carbon footprint and electricity bills, but they don't add value to your home — particularly if those panels are leased. Purchased solar panels, however, may increase your property's value, but that value decreases quickly over time as the panels age and improved models enter the market.


Quirky wallpaper

Wallpaper is very personal and choosing something too bold can be polarizing to any potential buyers. If you're thinking of freshening your interior, opt for a neutral grey, beige, or white walls instead, and consider hiring a professional.


Custom luxury upgrades

High-end, custom home improvements are highly personal and typically only recoup a fraction of project costs. Instead of only splurging on a custom kitchen when your bathroom could also use some help, consider minor upgrades to each area that'll be more universally appealing.


Wine cellars

Avid wine enthusiasts and entertainers might be wowed by a custom wine cellar, but it's unlikely they'll spend more for this bonus feature. For an average of $40,000, this is one extravagant feature that won't give you more bang for your buck.


Oversized home addition

Before adding to your home's square footage, do your research. According to The Real Estate Appraisal Group, most buyers tend to look at homes in a certain neighborhood because they match their price range. So, if adding a second story to your ranch home makes your property the biggest in the neighborhood, you might struggle to sell in the future.


Remodeled basement/attics

Although a midrange finished basement is a selling point for many (man caves and playrooms are great basement spaces), it'll only recoup about 70% of what you spend. And finished attics offer even lower ROI than finished basements.


New windows

At $200 to $1,800 (per window) on average, window replacement isn't cheap. A good rule of thumb is to only replace broken or leaky windows. Opt for vinyl over wood for a higher return on your investment.


Swimming pools

The jury's still out on swimming pools. On one hand, outdoor living and entertaining has never been trendier. But on the other hand, an in-ground pool costs an average of $42,480 and only adds a value of $21,483 back to your home, according to a Top Agent Insights Report. And don't forget the yearly maintenance and insurance.
Source: https://www.homelight.com/blog/home-improvements-that-do-not-add-value/