Selling your house and buying another: what you should know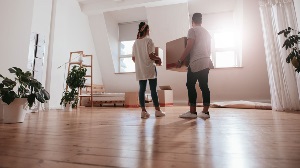 There's a lot of advice and information out there for first time homebuyers (for instance, Instagram has over 348,000 posts with the hashtag #FirstTimeHomebuyer!) but no one really talks about buying your second home.
While some of the process is similar both times around, you have a lot of new things to think about during the process of buying your second home. My husband and I sold our first home and bought our second house earlier this year, so I thought I'd put everything I learned throughout the process into a short how-to guide for buying your second home.
Decide what type of home you want
Your first house gives you a chance to figure out if you want a fixer upper or a move in ready house for your second home. If the first home you bought was a fixer upper and you didn't enjoy that experience, you might look for more of a move-in ready home.
If you're a glutton for punishment, like my husband and I, and enjoy doing a million house projects, then you might be drawn towards the fixer uppers in (or slightly under) your price range.
Determine what you can afford
Speaking of your price range, you'll need to determine what you can realistically afford for your next home. In order to plan for a mortgage that's within your means, Tom Gilmour from LearnVest Planning Services, suggests looking at homes that are a max of three times your annual income.
In addition to what you'll pay for your monthly mortgage, you'll need to figure out what you can afford for realtor fees, closing costs, and a down payment. Remember, this will differ slightly from the first time you bought a home because this time you need to plan and budget for costs that are associated with selling your current home, too.
Oh yeah, did no one mention that it costs you money to sell your home, too? You have to repay the remainder of your first home mortgage, possibly help pay closing costs for the buyer (if that's negotiated as part of the sale of your home), and cover the real estate agent fees. Make sure you fully understand what you'll be responsible for paying as both a seller and a buyer.
Learn about your local market
Before ever putting a "for sale" sign in your front yard, take some time to research your local market. For instance, when we bought our first home, it was a buyer's market. Our offer was accepted with no changes, and we were also able to snag the house for a much lower price than the sellers had originally listed it for.
When we sold that same house, it was a seller's market, and we were able to get very close to our listed price with few demands from the buyer. We were very lucky that in both scenarios, the market was in our favor.
In addition to learning about who might have the upper hand in your local market, start looking into house availability in your area. Most of the U.S. is currently experiencing a housing shortage so be aware ahead of time that you might not be able to find many houses in your price range that fit your needs.
Decide if you'll use a realtor (or not)
Selling your home on your own has never been easier. More and more "for sale by owner" (FSBO) businesses are cropping up, and they help you sell your home without the large commission fees that come along with using a real estate agent.
It's not a free service, so you'll still invest some money into the process, and you'll definitely invest a lot of your time (between paperwork, home showings, and arranging inspections, photographers, etc.) but this route could potentially save you thousands of dollars in realtor fees, so it might be the right route for you.
If you don't think you have the time or energy to sell your home on your own, look into hiring a realtor. As the seller, you'll be responsible for the real estate agent fees so you might be hesitant to hire one, but agents know how to find great homes and negotiate without getting emotional.
Search for one who has positive, unbiased reviews, and make sure they're a good communicator. Nothing will make you more stressed out than realizing you have no idea what's happening with the sale of your home because your realtor basically ghosted you.
Think about the selling and buying timeline
Are you wanting to try to sell and buy at the same time? Do you have somewhere to stay temporarily if your current home sells before you find a new one? Would you be okay with potentially losing a home you had your hopes set on because your current home didn't get an offer in time?
With our recent experience, we sold our previous home and bought our new one within a few days of each other, and we were able to get into our new home a few weeks before actually closing on it, so we had a relatively low stress experience with this.
However, most sales and purchases don't line up so nicely, so think about how you'll manage this ahead of time, especially if you need the money from your first home's sale to purchase the second home. This is very common, but it adds an extra layer of trickiness when trying to line up the buying and selling process.
Get pre-approved
Just like when you bought your first home, it's important to find a mortgage lender you trust and get pre-approved. Some realtors and FSBO sellers favor buyers who have already been pre-approved, and some will even reject offers from buyers who haven't been pre-approved, so I can't emphasize enough how important it is to take this step.
If you're looking for a lender who can help you get into your perfect home (with low closing costs and competitive rates), start with IHMVCU. You can contact them via phone, email, or in person, and when possible, they can get you pre-approved in just one day.
Many of the things you'll need to do as a second time homebuyer are similar to what you did when you bought your first home, but the experience the second time around has many differences and, although this guide isn't exhaustive, I hope it helps you navigate the start of this process. Best of luck with searching for your next dream home!
If you've already bought your second (or third or fourth) home, what wisdom would you pass down to potential second time homebuyers?