Everything you should know about closing costs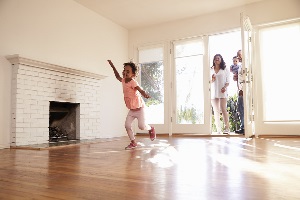 Do you ever feel like every other adult in your life just instinctively knows what things are or what they mean, and you're just nodding along like you understand too? If so, you're not alone. Until recently, that was me with the term "closing costs".
My husband and I recently purchased our second house after being in our first house for six years. In that time, I forgot what the buying process is like, and I had absolutely no idea what the selling process entailed.
We worked with a realtor, but until we received the final breakdown of costs a few days before we closed on both homes, we weren't sure how much we'd owe on either house (I didn't even know if we were responsible for the closing costs on the house we were selling or the one we were buying…).

We tried to calculate the total on our own, but we ended up inadvertently leaving out some costs and were unpleasantly surprised by just how much our closing costs came to. I'm here to help you learn from me so you're not taken by surprise by closing costs when you buy a new home.
What Are Closing Costs?
Let's start by defining the term. Closing costs are the fees incurred during the closing process on a house, and may include loan origination fees, appraisal fees, title searches, surveys, taxes, deed-recording fees, credit report charges, the first year of home insurance, and private mortgage insurance (PMI).
Real estate agent commissions are usually considered separate from closing costs, and they typically come out of the seller's proceeds. If you'd like a more detailed list of potential closing costs, see the list Zillow put together in their article on closing costs.
These fees are paid at the closing of a real estate transaction and can be incurred by both the buyer and the seller. Generally, the buyer is responsible for most (or all) of these costs, but negotiations can be made for the seller to cover some of the costs.
How Much Should I Expect to Pay?
Typically, closing costs come to 2-5% of the purchase price of the home you're buying and, according to a recent Zillow survey, "buyers pay roughly $3,700 in closing fees." For a ballpark estimate, you can use a closing cost calculator to get a general idea of what you might owe. It's good to know how much your fees will come to ahead of time because you can always try to negotiate with the seller to help cover some of the costs.
Can I, the Buyer, Reduce the Total Costs?
Some of the closing fees can be reduced by shopping around and choosing services, such as origination fees and your first year's home owner's insurance, that are more cost effective for you. This might take some research and getting different quotes from mortgage lenders and insurance companies, but it's a worthwhile effort if you need lower closing costs.
You can also push for the seller to cover some, or all, of your closing costs. Just because you can afford a mortgage, doesn't necessarily mean you have $3,700 (on average) laying around for closing costs, especially if you already drained your savings to cover the down payment. This was the case for us when we bought our first home, so we spoke to our real estate agent about it and we negotiated that the seller would cover all (yes, you read that right) of our closing costs.
Make sure you communicate with your real estate agent what you can and cannot afford during the buying process, and if you're buying a home without an agent, consider what kind of assistance you'll need from the buyers when you write your offer.
Should I, the Seller, Help with Closing Costs?
If you're the one selling your home, there's merit in considering covering part of the closing costs of your current home, under the right circumstances. I know this sounds kind of backwards when you're trying to make money off the sale of your home, but hear me out.
If you live in an area such as my old neighborhood, where many homebuyers are looking for their first home and might not have a lot of money for closing costs (that was us when we bought our first home!), offering to cover part of those costs could potentially increase the pool of interested buyers. Making a home purchase more realistic for many people looking in your area could lead to more offers and, possibly, a higher final price.
That concludes Closing Costs 101. Here are the most important things to remember:
Closing costs are typically 2-5% of purchase price
The buyer is typically responsible for them, but not always (negotiation is key!)
You can reduce the total fees with some research and price shopping
You can ask for assistance from the seller for paying for closing costs and, if you're the seller, you can offer assistance to the buyer (and it might benefit you to do so if you're selling in the right area)
Lastly, if you're looking for a new home, before you get too worried about what your closing costs will include, make sure to get pre-approved for a mortgage through your favorite financial institution