Crash Course in Credit, Lesson 4: Fixing Damaged Credit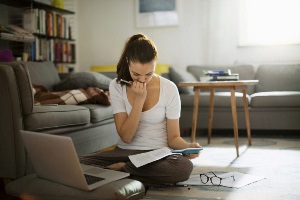 There's no quick fix for damaged credit. In Lesson 2 of our Crash Course in Credit you learned that nothing falls off your credit report quickly—good or bad, most things stay for at least seven years. But there are things you can do in the meantime to fix your broken score.
Step 1: Check your credit report.
Contrary to popular belief, it's not bad to check your own credit report. It's something you should do at least once a year. You'll never know what's hurting your score if you don't look. You can get a free copy of your report from all three credit bureaus once a year at annualcreditreport.com.
Got your report? Good. Now look for any mistakes, like falsely reported late payments or accounts that aren't even yours. If anything is amiss, you can dispute errors with the creditor and have it removed.
Step 2: Set payment reminders.
A good payment history is a huge part of your credit score. If late or missed payments are your problem, automatic payments might be your solution. As long as you actually have the money in your account, it's a fool proof way to guarantee your bills are paid on time. You can set up automatic payments through Bill Pay or, depending on what services are available, directly through your lender.
If you're not comfortable having your bills paid automatically, or you aren't certain the funds will be available when the due date rolls around, try setting up payment alerts on your phone's calendar. You can set them up however you like, but a good idea might be setting an alert the pay period before a bill is due. That way you'll know to budget around the upcoming payment.
Step 3: Call your creditors.
If you're really struggling to make your payments, burying your head in the sand will only make things worse. All creditors and lenders have at least one thing in common: they want you to pay them back. Many will work with you to set up a modified payment schedule that works for both of you, even if it's just for a couple months. Yes, you could end up paying more in interest in the long run but you'll at least have a chance to get back on your feet. So how do you know if your lender will be willing to work with you? You have to call and ask.