College by the Numbers: The High Cost of Higher Education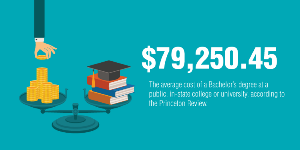 A lot of people these days will tell you that a college degree is no longer optional—it's a must have to find a job. In fact, a four-year degree is often touted as having the same significance as a high school diploma in decades past.
Though there's not much data to back up those assertions, research by the National Center for Education Statistics shows that in 2014, young adults age 20-24 with a Bachelor's degree had an 88.1% employment rate, compared to just 63.7% for those with a high school level education.
The prospect of a better job and better income is one major driver for those seeking higher education, but the results aren't always cut and dry. If you're one of the many students impatiently waiting at your mailbox for a college acceptance letter, here are the numbers you should know before you enroll.
90% According to Princeton Review, the overwhelming majority of students & parents feel that financial aid (education loans, scholarships or grants) will be necessary to pay for higher education. Ninety percent of students said financial aid would be "extremely" or "very" necessary.
$35,000 The cost of higher education is constantly on the rise. According to the Wall Street Journal, the class of 2015 graduated with an average student loan debt of $35,000, making them the most indebted class ever.
$79,250.45 The average cost of a degree for those attending a public, in-state college or university is $79,250.45. While that may seem steep, those attending a private school can look forward to a bill closer to $177,000 for a four-year degree.
35% Though plenty of students are afraid they won't get into their college of choice, 35% are concerned they'll get into their first-choice college, but won't be able to attend due to the high cost or insufficient financial aid.
$1,298 In 2015, it's estimated that students at four-year colleges and universities spent an average of $1,298 on books and supplies, according to College Board.
$48,000 The average starting salary for bachelor's degree holders is $48,000, versus $30,000 for those who stopped after high school. Keep in mind that your starting salary is largely dependent upon your major—Engineering majors earn the most with a median starting salary of $64,367, and Liberal arts and Humanities majors earn the least at $36,237.
$26,000 Every year IHMVCU awards $26,000 in scholarships to students who excel in the classroom and their communities. Interested? Learn more and apply online at ihmvcu.org/scholarships.