As the outbreak of COVID-19 evolves, we are closely monitoring the situation and are prepared for ongoing developments. Check back for updates.
Lobby Service Is Temporarily Suspended
For the safety of our members and team members, IHMVCU will continue to provide full drive-up service including our ITMs and ATMs, and lobby access by appointment only until further notice.
Face-to-face lobby services are temporarily suspended for all locations starting March 18, 2020.
Drive-ups and ITMs (video tellers) will remain open during regular business hours. View drive-up hours and locations.
ATMs are available, 24/7.
Members can contact us via secure online chat, secure messaging via Online Branch, and by phone during regular business hours.
If your income has been impacted and you need financial assistance, we can help
For members with loans in process, things are still moving forward. Your loan officer will reach out to you with details.
Business members needing assistance, learn more about your options.
To schedule an in-person appointment, please call 309-793-6200 press 2.
For those who have been financially impacted by the COVID-19 outbreak, we have programs available to assist affected members such as payment relief and short term loans.
Loan Payment Relief
If your income has been hurt because of COVID-19 and you're worried about making your next loan payment, we want to help. We're now offering loan payment deferral for 30 days (or more) or reduced payments to qualified members.
If you're requesting assistance on a mortgage and another loan, you need to fill out each of the below applications.
Apply for payment assistance on your credit card, auto, home equity or personal loan.
Apply for payment assistance on your mortgage.
Apply for mortgage payment relief
Your request will be processed within 3 business days.
Emergency Loan
In addition, an emergency loan is available to replace lost income and includes no payments for 60 days, interest rate as low as 3.99% APR, amounts up to $5,000 and terms up to 36 months. Standard underwriting applies.
As part of the CARES Act, the U.S. Federal Government is delivering "Economic Impact Payments" to eligible Americans.
The Economic Impact Payments (also referred to as "stimulus checks") are direct cash payments to individuals and families are for financial relief during the coronavirus pandemic. Here are our best answers to your frequent questions:
I received a VISA prepaid debit card from the government in the mail. Is this a scam?

No, this is not a scam.

Make sure to check your mail closely. Some stimulus payments are being sent as a prepaid debit card and will be mailed in plain, white envelopes that you could easily mistake for junk mail. L

earn more

here

.

How do I use my prepaid debit card without paying a fee?

You may receive a prepaid debit card from the government with your economic impact payments, learn how to access this money and use your card without paying a fee

here

.

Am I eligible for a payment?

When will I get my payment?

The Internal Revenue Service (IRS) is responsible for the timing, amount and distribution of these payments, and has stated that payments will be sent in waves over the next few months into July 2020.

Is my payment in my account?

If you're receiving your payment through direct deposit:

Check your balances and transactions with our mobile app or through Online Branch.
The description of the deposit in your account will include the word "IRS." Keep in mind, the IRS is using the same description for both the stimulus payment and income tax refund.

If you're receiving your payment through paper check:

If you have trouble getting into your account, send us a secure chat and we'll be happy to help.

Will I still get a payment if I didn't make enough money to file a 2018 or 2019 tax return?

According to the IRS, yes.

How much will my payment be?
24/7 Account Access - Always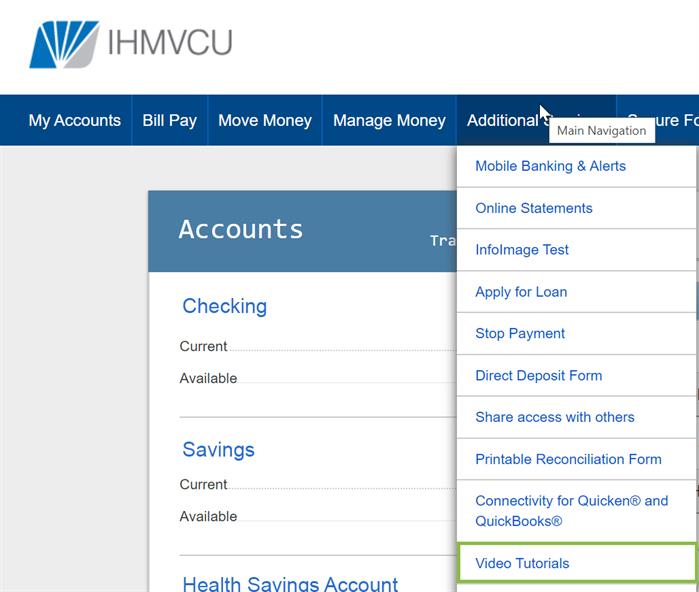 Need small business relief?
We know this is a very challenging time for all and want to do everything we can to assist. Visit our dedicated landing page for options to help your small business during this pandemic.
A message from our president
For the safety of our members and team members, we're temporarily adjusting our in-person services in support of community health.
We're taking the precautionary step, along with several other Quad City financial institutions, to temporarily suspend face-to-face lobby services for all locations starting March 18, 2020. All drive ups including our video tellers are open during regular hours. View drive-up hours and locations here. We expect these measures to be in effect through the end of March and will reassess at that time.
Beyond the drive-up locations, our investments in technology allow you to interact with us in many ways including mobile, online and phone. We stand ready to assist you in signing up for these channels if you haven't already done so.
We understand these are unprecedented times. We'll continue to monitor the situation as it develops and evaluate additional measures to support our members and community.
Thank you for your loyalty and membership.

Brian Laufenberg
President & CEO
Third Party Disclaimer
By continuing you will be leaving the main IHMVCU website. Even though you may have clicked on a link that takes you to another company's site that we have partnered with, we are not responsible for the accuracy, security, or content of their website. We encourage you to view privacy and security disclosures of all websites you visit.
Continue to: