As the outbreak of COVID-19 evolves, we are closely monitoring the situation and are prepared for ongoing developments. Check back for updates.
Lobbies are open

It's been a long couple of months, but we're happy to announce ALL IHMVCU lobbies are open as of June 15. We can't wait to see you again. The following guidelines have been created for the safety of our members and team members.

While our doors are open, we do ask that you continue to schedule an appointment for any non-routine transactions including loans, opening new accounts or joining the credit union. This will help reduce your wait time. To do this, text APPT to 309-793-6200.

In addition to air hugs and air high-fives, here's what you can expect on your next visit to an IHMVCU lobby:
Check in – To help manage capacity limits and spacing, please check in with our greeter when you arrive. You can also check in by texting CHECK IN to 309-793-6200.
Lobby capacity – Due to limited capacity in our lobbies, if you have children or friends with you please use our drive-up.
Lines – The waiting line will be marked with designated spots at six-foot intervals. If the lobby is at capacity, you'll be asked to wait in your car or use the drive-up. We'll text you when it's your turn.
Face coverings – All team members will be required to wear a face covering. We recommend anyone coming inside the branch wear a face covering, as well.
Shields – Clear shields have been installed at all teller stations and in the offices.
Waiting areas – Seated waiting areas will be limited, and if at capacity, you'll be asked to wait in your car or use the drive-up. Refreshment stations will remain closed. Bathrooms will not be available for public use.
Sanitation – Team members will continue to sanitize high-traffic surfaces regularly. Pens will be collected and sanitized after each use.
Health and safety – If you have symptoms or have been around anyone with a confirmed COVID-19 diagnosis in the last 14 days, please stay home and call us or use chat, online banking or our mobile app.
Service experience

While necessary, these precautions will impact wait times in our lobbies. Here are some tips to help ensure you have a positive and efficient experience.
Schedule an appointment for loans, opening new accounts or joining the credit union, which require more than routine service. This will help reduce your wait time. Text APPT to 309-793-6200.
Continue using low- and no-contact service channels when possible, including our ITMs/ATMs, drive-ups, chat, online banking and our mobile app.
If you're in the Quad Cities, our ITMs are available from 7 a.m. – 7 p.m. Monday – Friday, 9 a.m. – 1 p.m. on Saturdays, and 12-3 p.m. on Sundays.
- 2102 East Kimberly Road, Davenport
- 4051 Avenue of the Cities,Moline
- 2500 river Drive, Moline
- 4206 5th Avenue, Rock Island - 685 Avenue of the Cities, Silvis
We'll continue to monitor new information and safety recommendations closely and adjust as necessary.
We're here to help you and our communities, and appreciate your patience as we implement these new guidelines.
Be safe, be well, and thank you for your loyalty, patience and membership.
For those who have been financially impacted by the COVID-19 outbreak, we have programs available to assist affected members such as payment relief and short term loans.
Loan Payment Relief
If your income has been hurt because of COVID-19 and you're worried about making your next loan payment, we want to help. We're now offering loan payment deferral for 30 days (or more) or reduced payments to qualified members.
If you're requesting assistance on a mortgage and another loan, you need to fill out each of the below applications.
Apply for payment assistance on your credit card, auto, home equity or personal loan.
Apply for payment assistance on your mortgage.
Apply for mortgage payment relief
Your request will be processed within 3 business days.
Emergency Loan
In addition, an emergency loan is available to replace lost income and includes no payments for 60 days, interest rate as low as 3.99% APR, amounts up to $5,000 and terms up to 36 months. Standard underwriting applies.
As part of the CARES Act, the U.S. Federal Government is delivering "Economic Impact Payments" to eligible Americans.
The Economic Impact Payments (also referred to as "stimulus checks") are direct cash payments to individuals and families are for financial relief during the coronavirus pandemic. Here are our best answers to your frequent questions:
I received a VISA prepaid debit card from the government in the mail. Is this a scam?

No, this is not a scam.

Make sure to check your mail closely. Some stimulus payments are being sent as a prepaid debit card and will be mailed in plain, white envelopes that you could easily mistake for junk mail. L

earn more

here

.

How do I use my prepaid debit card without paying a fee?

You may receive a prepaid debit card from the government with your economic impact payments, learn how to access this money and use your card without paying a fee

here

.

Am I eligible for a payment?

When will I get my payment?

The Internal Revenue Service (IRS) is responsible for the timing, amount and distribution of these payments, and has stated that payments will be sent in waves over the next few months into July 2020.

Is my payment in my account?

If you're receiving your payment through direct deposit:

Check your balances and transactions with our mobile app or through Online Branch.
The description of the deposit in your account will include the word "IRS." Keep in mind, the IRS is using the same description for both the stimulus payment and income tax refund.

If you're receiving your payment through paper check:

If you have trouble getting into your account, send us a secure chat and we'll be happy to help.

Will I still get a payment if I didn't make enough money to file a 2018 or 2019 tax return?

According to the IRS, yes.

How much will my payment be?
24/7 Account Access - Always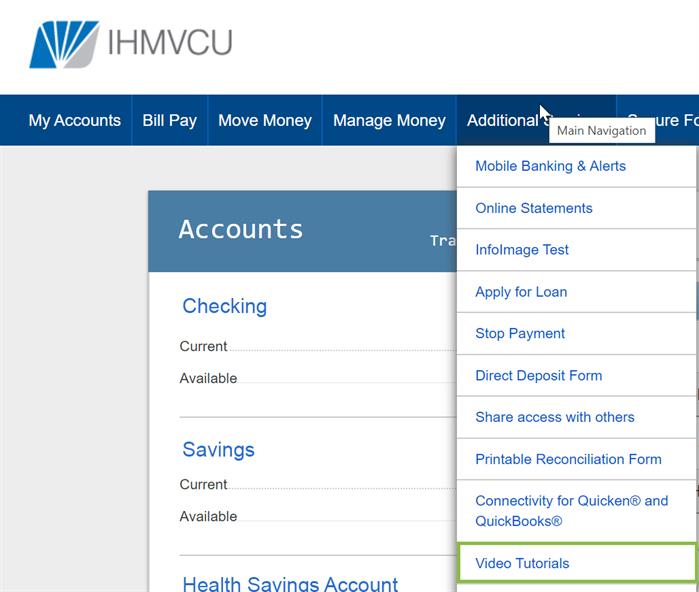 Need small business relief?
We know this is a very challenging time for all and want to do everything we can to assist. Visit our dedicated landing page for options to help your small business during this pandemic.
Third Party Disclaimer
By continuing you will be leaving the main IHMVCU website. Even though you may have clicked on a link that takes you to another company's site that we have partnered with, we are not responsible for the accuracy, security, or content of their website. We encourage you to view privacy and security disclosures of all websites you visit.
Continue to: