Business Visa® Credit Card
You're enterprising. We're supportive.
Whether you're starting up your first small business or focusing on commercial growth, Business Visa® from IHMVCU gives busy entrepreneurs like you one less thing to worry about.
Our Business Visa® Credit Card is the right card for your company. Earn cash back on every purchase*, plus pay no annual fees or hidden charges. Choosing a credit union for your commercial credit card means you get a reliable card with a great rate and the local service you deserve.
From meals and travel to client entertainment and office supplies, your IHMVCU Business Visa® is a convenient way to track your spending and keep your business expenses separate from personal experiences.
Worried about fraud protection? Our local fraud team will alert you of any unusual purchases when they happen, and take care of the red tape too.
Download our business credit card application
Visa Business Credit Card Cardholder Agreement
*If credit limit is greater or equal to $10,000, please provide the past two year-end financial statements or tax returns on the business and two years of the personal guarantor's tax returns.
More tools for tracking your account
With Alerts from IHMVCU powered by Visa, you can receive near real-time updates on your Visa® card activity. So you can act quickly to help reduce fraud and monitor your account, wherever you are. It's free for IHMVCU Visa® cardholders. Sign up at Visa.com/PurchaseAlerts.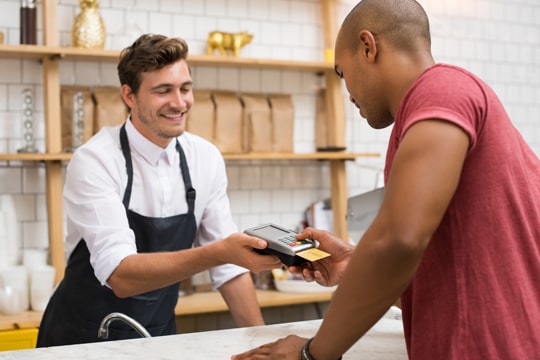 Oh, you know your . . .
Card reader thing
Card swiper
Credit card thingy ma-jig
Credit card machine
Merchant processor
Whatever you call it, we can probably save you money. Accepting Visa®, MasterCard®, American Express® and Discover® credit and debit cards is easy with merchant services from IHMVCU. We've partnered with an industry leader in electronic payment processing to help increase your profits and improve your business.
Want to know if we can save you money?
Business Online Branch
We know you don't always have time to take care of your banking during normal business hours. Our Business Online Branch gives you access to anytime banking and bill payment, self-service account management, ACH payroll services and more, for FREE.
Enroll today and get the resources and tools you need to succeed. Contact our business team to get started today!