New Year's Resolutions to Fix your Finances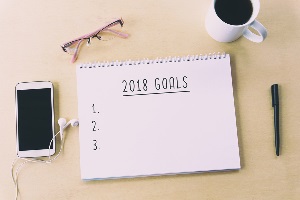 The new year is right around the corner, which means those pesky resolutions are too. While a lot of us are out here trying to fit into our skinny jeans from high school and drop some bad habits (smoking, soda, nail biting, $7 avocado toasts, what have you), your resolutions shouldn't be limited to your physical self.
Whether you're normally a goal setter or not, this symbolic clean slate of another year ending is a great opportunity to set some goals to improve your financial self.
Regardless of where you are on your financial journey, here are some easy(ish) ways you can start the next year on your best financial foot.
Whatever you choose to do, the point here is to set a realistic financial goal (or two) and stick to it. If you reach your goal early, go ahead and set another one. If you also decide to quit smoking – go ahead and toss that extra $7 a week into your emergency fund.
If you go for #1 (and you should if you don't already have a budget set up) download our free Plug & Play Budget Spreadsheet. All the fun of establishing a budget, none of the boredom of making your own spreadsheet.