Student Loan Payments are Resuming - Let's Get Your Budget Ready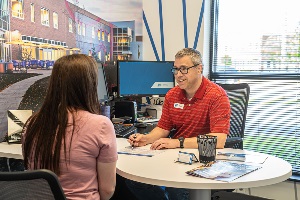 All good things must come to an end and that includes the pause on federal student loan payments.
After a historical hiatus throughout the pandemic, borrowers now face federal student loan repayment. Evaluating your full financial picture and making a repayment plan goes a long way towards reducing stress and uncertainty.
If you're feeling overwhelmed at the prospect of repayment, you don't have to figure it all out on your own!
As a member of IHMVCU, you have access to free resources and counseling from our partners at GreenPath Financial Wellness.
Here are a few resources you can use now to prepare for student loan payments to start back up:
Aligning priorities online course

: A useful tool for prioritizing your expenses and identifying what changes may need to be made to fit student loan payments in.

Free financial counseling: Call GreenPath today at 877-337-3399 (or request a call on their website) to connect with one of their NFCC-certified financial counselors. They'll help you strategize changes to your budget and can help you understand your student loan repayment options. It's free, no-pressure, and 100% confidential.
Worksheets and guides: Use the budgeting worksheet, Aligning Priorities workbook, and 4 Steps to Take with your Student Loan guide to plan your next steps.
We also know that each person's financial situation is unique. That's why IHMVCU has a team of certified financial coaches available to offer guidance tailored to your needs. They can help reduce the stress that comes along with student loan repayment.
A financial coach will talk in-depth with you about your personal situation. They'll run through a financial health checkup and assist with creating a budget or plan customized to your specific situation. You can schedule an appointment today to meet with one of our financial coaches.
Remember, your financial well-being matters, and we're here to help you succeed in managing your student loans and achieving your financial goals. Stay proactive and reach out if you need help – you've got this!