Five – quick and easy – ways to save on prescriptions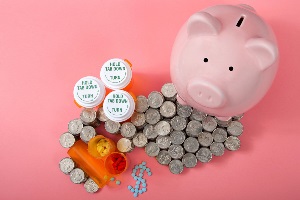 If you're like the more than 131 million people (that's 66% of all adults in the U.S.) you take some sort of prescription drug. I'm no different. Between having asthma, allergies (hello, tree pollen) and anxiety my monthly prescription costs add up quickly. It can be a tough pill to swallow (see what I did there?! 😊).
While I'm lucky enough to have good health insurance, not everyone is in the same boat. Plus, we all know how tricky insurance companies can be with their tiered drug pricing. I'm all about saving a pretty penny (I mean, who isn't these days?). So, I've compiled a list of my top five quick and easy ways you can save on prescriptions.
Generic medications:

One of the most effective ways to save on prescriptions is by opting for generic versions of brand-name drugs. Generic drugs contain the same active ingredients as their brand-name counterparts but are typically much cheaper. Before the doc sends your prescription in, ask them if a generic alternative is available.

Prescription discount cards:

Prescription discount cards can provide significant savings on your medications. They're usually free and can be found at pharmacies, healthcare providers, and online resources. A few good ones are WellRx, RxSaver and SingleCare.

Compare prices:

Prices for the same medication can vary widely between pharmacies. Take some time to compare prices at different local pharmacies, as well as online pharmacies. Websites and apps like GoodRx can help you find the best deals in your area. Don't forget to factor in any discounts or rewards programs offered by specific pharmacies (I love me some Walgreens Cash!).

Mail-order pharmacies:

Consider using a mail-order pharmacy, especially for maintenance medications. They often offer lower prices and the added convenience of home delivery (you mean I don't have to spend forever waiting in the pharmacy drive-up). You can typically receive a 90-day supply of your medication at a discount. For instance, because of my insurance through United Healthcare I only pay the cost of a 60-day supply, but I receive a 90-day supply.

Health savings accounts (HSA) and flexible spending accounts (FSA):

Another one of my favs. If you have an HSA or FSA through your employer, you can use pre-tax dollars to pay for prescriptions. This can equal significant savings, as you won't be paying income tax on the money used for healthcare expenses. Plus, you don't have to shell out a lot of money at once.