FunFinder - September 2023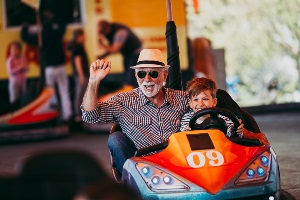 Just because school is back in session, it doesn't mean the family family and adventures have to stop! There's still plenty of budget-friendly family activities happening in the Quad-Cities and surrounding areas during the month of September.
And best part - we've compiled a list of our favorites. That means more time exploring and making memories! Make sure to check back regularly for more events and activities.
Have an event you think we need to add? Email us at marketing@ihmvcu.org.
September
September 1-3
September 4-10
Sat., Sep. 5: Hands-On Art History - Cubism Block Paintings, LeClaire Community Library
Sep. 7-9: Trains, Planes & Automobiles, Geneseo Historical Museum, Geneseo, IL

Sep. 8-10:

Platteville Dairy Days 2023

, Legion Park, Platteville, WI




Thu., Sep. 7: Family Storytime - Popsicle Stick Apples, Silvis Public Library, Silvis,

Fri., Sep. 8:

Weird But True (Durant)

, Scott County Library, Durant, IA



Fri., Sep. 8: Teen Jewelry Making Night, East Moline Public Library
Fri., Sep. 8: Tween & Teen's Take Home Craft - Air Dry Ghosts, Sherrard Public Library, Sherrard, IL
Sat., Sep. 9: Dixon Monarch Festival, Wapsi River Environmental Education Center, Dixon, IA
Sat., Sep. 9: Monarch Release Party, Nahant Marsh Education Center
Sat. Sep. 9: Monarchs & Mariachi, Putnam Museum, Davenport
Sep. 9-10: Fall Festival Opening Weekend, Prairie Moon Farm, Knoxville, IL
September 11-17
September 18-24
September 25-30