5 questions to ask before opening a business account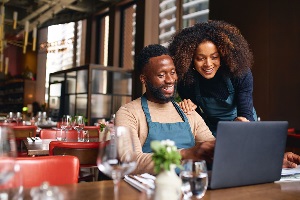 Whether you're just starting up and only need a simple checking account for your business, or you've been in business for several years and are looking for a change, there's a lot you should consider before opening or moving an account.
The kind of account you choose can make or break your business. Here's what our VP of Commercial Services Chad Ervin thinks you should know before opening or switching your business accounts.
1. Does the account have a minimum balance requirement?

A minimum balance is one of the most common qualifiers for checking and savings accounts. For some accounts it's simply the initial amount required to open the account, but for others you might be charged a fee if your balance ever falls below that amount.
2. What's the fee schedule?
Understanding the fees and costs associated with an account is the best way to avoid surprises down the road. A financial institution should provide you with a fee schedule before the account is opened, but it's always good practice to ask for it just in case. So, what should you be looking for when you read the fee schedule?
Monthly maintenance fees
Running and maintaining a checking account involves administrative and operational expenses for a financial institution. These costs include customer service, account statements, check processing, ATM access, online banking facilities, and more.
Overdraft fees
How much will you be charged if your account is overdrawn? No one plans to overdraw their account, but mistakes happen. When a financial institution pays an item that exceeds the available balance, this is essentially an unsecured loan. When you open your account, ask how you can limit or avoid these fees.
Cost of checks
Financial institutions generally order checks from a third-party vendor, and they expect to be paid. Often the first order is on the house, but you may have to pay for subsequent orders.
3. What are the minimum transaction amounts? Maximum transfers?
Some checking and savings accounts require a minimum number of transactions to be eligible for the account perks (like earning dividends, ATM fee reimbursement, etc.). Other accounts, like Money Markets, might restrict the number of transactions you can make in a month. Knowing these requirements up front will allow you to make an informed decision based on your business's needs.
4. Is the account interest bearing? How is interest calculated?
It's important to know if you'll be paid dividends on an account and what must be done in order to receive them. Typically, interest is calculated based on the Average Daily Balance of an account. You should confirm how that interest is calculated and if there are any eligibility requirements, like a minimum balance or transaction limit, so you can position your business to take advantage of this perk.
5. Is online banking available? What does it cost?
Online banking is a key platform in today's culture. Many people prefer the convenience online banking provides over visiting a branch in person. While almost all financial institutions offer some form of online banking, it's important to make sure it's available with the account you need and that it offers the features you want—like mobile banking and remote deposit. You should also find out if there's a cost associated with having that access.
If you already have a business account, it's good practice to review the terms at least once a year to make sure the account still fits your needs. If you can't find the answers to all your questions by looking at your statement, make an appointment with your financial institution to have them walk you through it.