529 Plans and beyond: Smart ways to save for your kid's future
When they were little, my kids had big dreams of being all sorts of things when they grew up. A race car driver. A veterinarian. A firefighter. A movie star. As parents, it's our job to nurture those dreams, wherever they may eventually lead. But most career paths require some sort of skilled training or a college degree to be successful.
It's never too early to start preparing for your child's future education — here are a few ways you can get started.
1. 529 savings plans
A 529 savings plan, named after Section 529 of the Internal Revenue Code (IRC), is a great vehicle for covering the cost of college. Contributions to these accounts grow tax-deferred, and any withdrawals used for qualified education expenses (tuition, books and computers, among them) are tax-free. Another appealing feature: There's no contribution limit. But be warned that contributions of more than $15,000 per year may trigger federal gift tax.
Starting a 529 plan early helps you be more financially set for the ever-rising costs of college … but what if your child decides not to go to college? Don't fret! These savings plans can be transferred to another eligible family member (including the original beneficiary's siblings, parents, children, first cousins, nieces and nephews).

2. Roth IRAs
Unlike a 529 plan, Roth IRA contributions are capped at a certain amount for savers. Those under the age of 50 can put away $6,500 per year, which bumps up to $7,500 annually at 50 and older. Funds in a Roth IRA grow tax-deferred, and contributions (but not earnings) can be withdrawn tax-free any time for any reason. One advantage of using a Roth IRA for higher education is that these types of accounts don't get counted as an asset when a student applies for financial aid.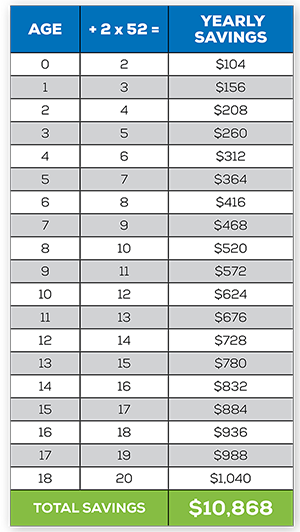 3. Regular savings accounts
Don't forget the ease and importance of a basic savings account. For each of my kids, I save their age plus two each week, put it into their savings account and let it grow. On every birthday I increase it by $1. The day before they turn 19, they'll have $10,868 (not including any interest earned). With the CD rates increasing, once the savings account is over $250, it may be a good time to lock some funds into a CD for a better rate. Picking the term of the CD on rates and what events may be coming up. See a Financial Coach to review your options.
4. UGMA/UTMA accounts
Considered custodial accounts, Uniform Gifts to Minors Act (UGMA) and Uniform Transfers to Minors Act (UTMA) accounts are held in the name of a minor (with parental control) until they reach a certain age, and the account can be transferred to them. However, because UGMA/UTMA accounts are technically considered student-owned assets, the more funding available in these accounts can negatively impact your student's eligibility for need-based financial aid.
More ways to save
Other sources of financial aid include grants, scholarships, loans and more. In an interesting note for those already familiar with the FAFSA, the application was recently trimmed down from 108 questions to roughly three dozen, making the application process for financial aid a whole lot simpler starting in July.
When saving money, just remember that every kid's needs are different, and time is your friend to reach those savings goals. There's no perfect way to save and no wrong answer in doing it (other than not saving at all).
Learn more about 529 plans.