Spring Cleaning Your Finances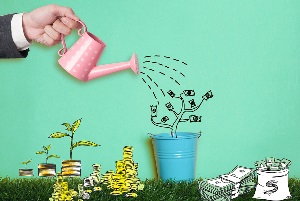 Spring cleaning ... whether you're simply sprucing up your yard or building a new deck, you're likely using some sort of tool to help, right? Just like actual spring cleaning, you've surely heard the saying "spring clean your finances". Wouldn't it be nice to do both! But where do you even start? Sure, you can consult Google for ideas, but you're bound to be overwhelmed by the results. Well, you're in luck because your credit union has tools for that.
Whether you're looking to increase your credit score, buy a home or simply understand how credit cards work, Compass™ is a great tool. Think of it like your hammer. It's always around when you need it (unless your husband forgets to put it back where it belongs). It's easy to use and doesn't require too much work.
Compass™ Courses provide an engaging learning experience across a wide variety of financial topics, ranging from 5 minutes to 20 minutes. Not only are you bound to learn something new, the courses provide actionable insights to implement in your daily life.
Before you even start a project, though, you have to come up with a plan. Yes, you DIYers out there may already have your vision and know what you need to do. But some of us need or want more personalized guidance. Did you know we offer our members FREE financial check-ups? Here's what to expect.
First, you'll complete a survey prior to coming into the branch. Your responses will help guide the conversation. Do you need help with budgeting? A credit review? Something else?
During your one-hour appointment we'll go over your responses and come up with a plan. Most often we'll do a soft pull on your credit (don't worry, it won't hurt your score) and coach you on what your credit looks like, any "quick win" actions you can take to improve it and other tips and tricks.
On the flip side, if you're at zero credit we'll have a conversation about how to achieve credit based on your personal situation. If you have collection items, we can help by calling your lender to see what options there are to ease the burden.
Budgeting is a big one. We utilize a budgeting worksheet to walk through your income and expenses to see where you land. If you're in the negative, we can help you walk through what makes sense to cut back on.
See what I mean about a personalized approach? Depending on your needs, we may ask you to come back for multiple sessions. Oh, and on top of your free consultation, you're encouraged to take our Financial Coaches contact information home with you and keep in contact.
Overall, the key to "spring cleaning" your finances is to stay organized, track your spending, and make a plan to achieve your financial goals. By utilizing these tools and resources, you can make the process easier and more effective.