Temps Are Starting to Warm and So Is the Housing Market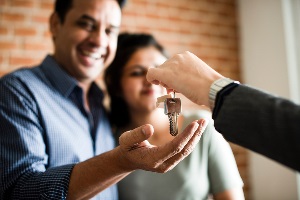 As someone who works in the mortgage industry, I get asked all the time if now's a good time to buy a house. Without looking in my crystal ball (no one ever really knows, after all), I can make a pretty good educated guess. My short answer is, yes.
Let's play a game: Date, marry or divorce? (Stay with me … I'm still talking about the housing market here.)
Particularly if you're a first-time homebuyer, a good rule of thumb is to date the interest rate, marry the house and divorce the rent. Here's why: Living somewhere always costs money, no matter if you rent or buy. If you're renting, though, you're essentially paying 100% interest. But if you find your dream home that checks your "must have" boxes, you can lock in a 30-year fixed mortgage* for less than 6% APR (at the time of this publication), start to build your home equity, and watch the market to see if refinancing might be an option for you at a later date.
*A mortgage has tax benefits that can be written off, but you'll need to consult a tax advisor for specific details.
Start packing?
If you're house hunting and it's not your first rodeo, buying now might be a bit trickier. You're likely already used to a cheaper house payment, and you're probably not looking to purchase unless you have to move because of job relocation, or you've outgrown your current living space.
Considering a move when it's cold outside? In my experience, home deals often heat up during winter months because sellers don't want to drag out the process into the spring (when the market starts to get busy again). Don't get too hung up on the slight rate bump — historically, 6% APR is still very low. For comparison, rates were in the teens in the 1970s and '80s. Let me say it again: Date the interest rate, marry the house and divorce the rent.

Should I move?
You might be ready to test the waters of today's market if one (or more) of these reasons is driving your decision.
New area: Closer to family, a better school district, cheaper property taxes, etc.
More space: You've outgrown your current digs or have added to your family
Downsize: Kids have moved out, your home is too large or you can't afford your house payment
Upgrade: Nicer/more features your current home or rental doesn't have
Nix the rent: You're tired of renting or your landlord has raised the rent
Lifestyle change: Marriage, divorce, traveling more, etc.
Health change: Maybe stairs have become an issue
Thinking of moving but not sure where to start?
Get in touch with an IHMVCU mortgage officer. Discuss your financial goals, and where you currently stand. I like to tell people to calculate their net take-home pay and make sure their house payment is no more than 25% of that number to keep payments manageable. Afterall, we want a new house to be a blessing, not a burden.