IHMVCU is safe and financially strong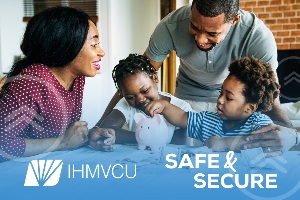 With all the negative news, you can take comfort in knowing that your credit union, IHMVCU, is safe and financially strong. Our loans are local, not in speculative ventures. Our decisions are made with you in mind, not stockholder profits, avoiding the kinds of decisions that can lead to a crisis.
You will continue to be our top priority. We're here for you in many ways:
By keeping your money safe and secure.

Deposits are protected by the National Credit Union Share Insurance Fund and insured up to at least $250,000 per individual depositor – the same as any other federally insured financial institution. We've put together a page further explaining the NCUA insurance because we know it can be confusing. You can access that page here.
We're well capitalized and maintain significant backup liquidity sources.

By lending locally.

Helping members like you buy the car you want, purchase the home of your dreams, or run your business.

By having strong oversight and governance.

Through a volunteer board of directors, elected by you, our members.
Strong policies, checks and balances to balance risk with service to our members.

By focusing on safety over return in our investments.


By providing guidance when you need it.

Financial coaches at our branch locations are ready to assist.
Chat, email or call our contact center agents.
We've been a part of the Quad Cities community for nearly 90 years. We're prepared for the unexpected and ready to handle the road ahead.
Questions? Your trust is important to us. We're here to answer your questions. Reach out through secure chat, call 309-793-6200 or 800-722-0333, or find a branch.