Financially Planning for … Pet Owners?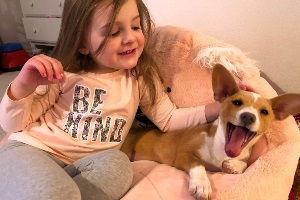 It's crossed your mind. You're scrolling through social media and a puppy attempts to jump onto a couch and falls hilariously to the floor. Or a cat knocks a box of cereal off the table for no reason and turns its head to the camera and stares. You may have thought, "maybe I should get a pet?".
Hold your horses, before you grab the bull by the horns, let's talk about the elephant in the room.
No matter what you're contemplating on getting, remember these are living, breathing, and (most often) emotionally needy creatures. It's a lot more effort and time commitment than remembering to water the dying orchid in your kitchen. Initial and on-going costs are sometimes overlooked when the idea of a new furball in your life is on the horizon.
So, before you make a beeline to go on a wild goose chase to find the perfect pet because you have ants in your pants, let's swan dive headfirst into a checklist to make sure you don't feel like a fish out of water.

FOOD: All pets need to eat, some of them up to three times a day. Depending on what you're planning on getting, it's safe to say you will need to budget $300-$700 a year on food alone.
VET CARE: Pets get sick or injured, and I hate to let the cat out of the bag, but most of the time they can't tell us what's wrong. Off to the vet we go! An unexpected visit to the clinic could range from $100 for simple bloodwork to thousands for ultrasounds, surgery or short stays. Not to mention routine visits for required shots, heartworm treatment, grooming, etc. Much like human healthcare, veterinary care is vital to the well-being of your pet, and it can get costly quickly. There are companies that offer pet insurance to help offset surprise bills. However, only about 3% of pets in the U.S. are insured.
ACCESSORIES: If you like to shop, well then, you're a lucky duck. In the past decade, American pet spending has more than doubled, ballooning to $123.6 billion this past year alone. In 2021, about half of all pet owners admitted to buying a gift for their pet on a monthly basis. Let's cover the basics: bedding, food and treats, security (tank, kennel, fence, leash, etc.), entertainment (toys, obstacles, tank décor, etc.) and yes, even clothing. Who can say no to an adorable dog sweater?! It's easy to price shop online, so do your research and stick to a budget.
LOVE: This is technically free, but time is money, and they'll require your time each and every day. Whether it's a daily walk, snuggles, fetch or socializing, pets need exercise and their minds stimulated. And sometimes these things cost money. Going on vacation for a week? You will need to pay boarding fees or a pet sitter. Maybe you find out you can't squeeze in outdoor play every day, here comes a local pet walker added to your payroll.
FAMILY: Pets are family, and this is a unique situation where you actually get to choose what you want to bring into your household. So, make sure it's a family decision and assign responsibilities accordingly. Take your time deciding on the right pet for your situation. Gather information about an animal and then make an informed decision if you are equipped to provide the sort of home it needs. Also, do your research on what your specific pet can and can't do. For example, a shih tzu isn't a good running partner and a cat's not a good swimming partner.
It isn't a sign of failure to admit you aren't ready or able to take on a pet at this point in your life. Not everyone is able to make the significant time, financial and emotional commitments it takes to welcome a furry friend into your home. What you can do is prepare yourself, do your research and create a budget to set you and your family up for success. Because the last thing you want to do is eat crow.