'Tis the Season for Holiday Fraud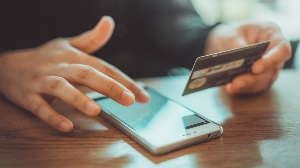 I'm sure your inbox is already flooded with holiday shopping deals. With less in-person shopping this year, cybercrime will be more prevalent. This is your annual reminder to lookout for cyber criminals who are out there waiting to take advantage of you. As technology improves, so do the cyber scams. Make sure you're keeping an eye this holiday season.
Phishing is the biggest way these criminals try to take advantage of us.
And they do it in a variety of ways, including:
Internet & social media ads
Emails
Phone calls/voicemails
Text/SMS messages
But don't stress.
There are ways you can reduce your risk of becoming a holiday shopping scam victim.
If you are unsure if an email or ad is legit then you should independently verify it (going directly to the company's website), delete it right away, or just not click on it. This means do some research before taking any action.
If you must check out something you see on the side of your social media feed (how can you say no to socks with your dog's face all over them?), type the company name into your web browser, rather than clicking links.
Protect your credit and debit card numbers. If you have an option to use a payment service such as Apple Pay, Google Pay or even PayPal, use them. These apps don't even use your card number so there's no chance of prying eyes taking a peek. Plus, you don't even have to take your card out of your wallet.
If you get a phone call from an unknown number, send it to voicemail. You can always call back if it's important. And if they're claiming they have a way to save you money or get you out of debt faster, it's more than likely a scam. If you're struggling to make ends meet. Give us a call or chat with us. We're here to help and don't want to see you sucked into one of these scams.
Same thing goes for text messages, if it sounds too good to be true, it probably is. Just as you would for an email, avoid clicking on links and instead go straight to the company site.
If you're shopping in stores, run your card as a credit, instead of debit. This provides extra protection in case the number is stolen. And makes it easier to get your money back.
Check your bank accounts more often during the holidays than you might otherwise. If you haven't downloaded our mobile app, we highly encourage you to do so. It makes it simple to check charges. By and large, mobile apps downloaded from the official app stores are safe to use. Just make sure to verify it is the correct app specifically for your bank or credit union. If you can't be sure, give them a call
Pro tip: Sign up for Card Controls. Taking control of your cards has never been easier. Turn off your card temporarily, set limits on card spending, and track activity with real-time alerts. Check out our card controls FAQ page for all the details.

On the subject of downloading apps, stick to the official app stores associated with your phone. Don't sideload them—meaning to get them from third-party sites.
With Black Friday (November 25), Small Business Saturday (November 26), and Cyber Monday (November 28) upon us, take caution when spreading holiday cheer.