Do you really need 20% down to buy a home?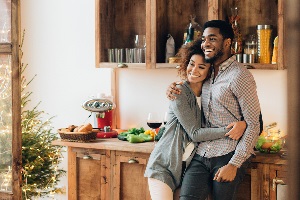 I received a call from a member recently, and this was one of her first questions. The short answer is no. She heard that she'd need a 20% down payment in cash and thought there's no way she'd be able to save that much money. Just think, if you're home is $250,000, you'd need $50,000 cash to put down. On top of closing costs and other miscellaneous costs associated with buying a home (hello, velvet couch), that may be unrealistic for some.
After our conversation she breathed a sigh of relief. I told her she doesn't have to put the full 20% down. You can put down as little as 3% (if you're buying your first home) and most people put down 5%. While $7,500 – 12,500 is still a lot of money, it's much more realistic to save than $50,000.
Three things to consider when determining your down payment
Mortgage insurance

You can put down less than 20% but you'll likely have to pay mortgage insurance. This covers the lender in the event you're not able to make your payments. But you won't be paying it forever. Once you have 20% equity in your home, you'll no longer pay for the insurance.

Monthly payment

A lot of factors go into your monthly payment including down payment, interest rate, loan term, taxes, and insurance. The more you put down, the lower your monthly payment. Plus, you're more likely to lock in a lower interest rate (and therefore, lower your monthly payment even more).

Approval rating

The more you're able to put down, the more likely a lender will approve you. Again, don't let this keep you from applying to see if and what you're approved for.
Down Payment Assistance Programs
Lucky for you, there a few programs to help with your down payment in the Quad Cites, Iowa City or Des Moines.
First Home Program: $2,500 grant assistance for down payment or closing costs that doesn't have to be repaid
Homes for Iowans: $2,500 grant assistance for down payment or closing costs that doesn't have to be repaid
Down payment Plus: A 5-year forgivable grant that gives borrowers up to $6,000.
Live Work Rock Island: employer assisted program that assists eligible homebuyers who work for a member of the Development Association of Rock Island (DARI).
CBDG City of Moline: A 5-year forgivable loan that gives borrowers up to $7,100 for purchasing an existing or newly constructed home in the City of Moline.