What's a CD (certificate of deposit)?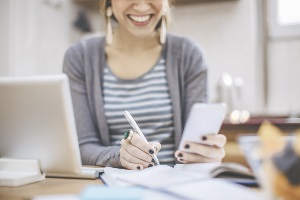 Are you saving for a wedding, a new baby or grandchild, school or vacation? Or maybe you just want to grow your savings the easy way? Earn more than a traditional savings account with a CD.
What's a CD?
A certificate of deposit (CD) is a timed deposit. When you open a CD, you agree to keep your money in the account until the maturity date, which can be anywhere from 91 days to 60 months (it's your choice!). In exchange, you get a higher rate than you might on a traditional savings account.
What are the benefits of CDs?
In general, CDs are extremely low risk. They don't usually come with any account fees or maintenance costs. So assuming you have time to lock your money up, CDs are a safe place to keep your money while getting a decent return. They're also federally insured by either the FDIC if you're at a bank or the NCUA at a credit union.
Most banks and credit unions offer a wide range of rates and terms, so finding something that fits with your schedule is pretty easy. Some places have terms as short as three months, or as long as ten years.
Another perk? If you're the kind of person who has trouble saving money if you have access to it, a CD creates a barrier between you and your funds. Knowing you can't just withdraw the money whenever you please without paying a penalty fee may make it easier to reach your goals while keeping your funds liquid (meaning if you really need to take the money out, you can).
What are the drawbacks of CDs?
Compared to higher-risk investment vehicles, CDs have a relatively low rate of return. So if you're willing to take some risks with your cash and want to get more bang for your buck, a CD may not be your best option.
Another drawback to consider is the term of your deposit. The longer you agree to keep your money in the certificate, the better your rate of return. But if you need to take your money out before your time's up, you risk paying a penalty. For a CD with a term over 12 months or more, you may be required to pay up to six months' interest.
What's a CD ladder?
If you want to take advantage of the low-risk, high-yield benefits of a certificate of deposit but don't necessarily want all your funds tied down for a long period of time, a CD ladder might be a good option.
Here's how it works:
Say you have $5,000. You invest $1,000 each in one-, two-, three-, four- and five-year CDs. When the one-year CD matures, you reinvest the initial deposit and its earnings in a five-year CD. When the two-year matures the following year, you do the same thing – reinvest in a five-year CD and so on.
Do this every year, and after the first five-year CD matures, you'll have one maturing every year. You'll have the option of reinvesting or withdrawing the funds once a year.
It takes a little time to get rolling, but it's one way to enjoy the benefits of a longer-term deposit without putting off access to your funds indefinitely and you still benefit from having your investment federally insured.
Interested in opening a CD?
Right now, earn more than a traditional savings account with our 15-Month CD.