5 Fun Grandparent's Day Gift Ideas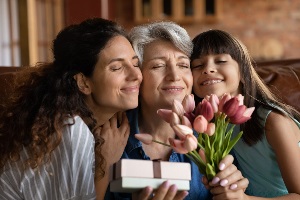 I may be biased but I have THE BEST grandparents! Despite being almost 40 years old, I still talk to my Granny almost daily and Gramps is my first call when something breaks around the house.
So, any chance I get to celebrate them or let them know how special they are, I take it. Grandparent's Day is the perfect time to remind them how loved they are. And it's quickly approaching on Sunday, Sept. 11.
I'm a huge fan of gifts from the heart and homemade gifts. The best part is you can make the day special without breaking the bank.
I've got five of my favorite simple and budget-friendly Grandparent's Day gifts you can make with your kids.
1. Family calendar: Not only is this a sweet gift, but it's also practical! I'm a huge Shutterfly fan. They make it easy to design a calendar using your favorite photos and they always have coupons. You can start the calendars with any month and personalize it with family birthdays, anniversaries, and special dates. My aunt and uncle have done this for almost 20 years for my grandparents. They look forward to receiving it every year.
2. Tile photo coasters: Grab the Mod Podge, it's time to do a little crafting! These are so cute; and grandparents will love them. All you need is four square tiles, Mod Podge, felt, hot glue, clear sealant, and four of your favorite pics (black & white photos give them a vintage look). The directions are simple and a great way to get the kids involved in gift giving.
3. Helping Hand Kitchen Mitts: Grandma and Grandpa will always have a helping hand, even when the kiddos aren't around! And you only need four items to make them – oven mitts (check Dollar Tree), fabric paint, fabric maker, and a hand.
4. Coupon book: A homemade coupon book is a fun personalized way to help grandparents around the house, plan activities, or just celebrate how awesome they are. And it's the perfect gift from older kids or teenagers. You can handwrite the coupons or create them on computer. Struggling for ideas? Here's 30 suggestions.
5. Jar of Love: This is probably my favorite gift I've ever given. It's a one-of-a-kind gift that comes from the heart and its cheap! Simply decorate a mason jar however you wish, then fill it with 52 slips of paper highlighting the reasons you love your grandparents or your favorite grandparent/grandchild memories. Each week they'll pull a slip out. My grandparents LOVED this gift and still talk about it 15 years later.