Social media is a scammer's paradise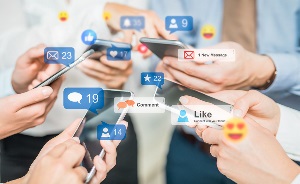 We know, we know, scrolling through your newsfeed and seeing your aunt's new puppy, your friend's new baby and that crazy video of the guy who ... okay, you get my point. Social media is a great way to communicate, share and have fun with all your closest friends, but it's also a low-cost way for cybercriminals to take advantage of the billions of people on it.
Below are the top 3 social media scams according to SANS.org.
Investment scams:
You'll notice a theme between these scams and the online shopping scams mentioned below. A deal too good to be true. Have you seen posts about a guaranteed huge return on investment with little to no risk? Or "get rich quick"? Then when you click you see another ad of someone's success story? Hate to break it to you, but there's no such thing as guaranteed, high-return investments (and those people are fake).
Especially as of late, many investment scams are about investing in crypto-currencies or real estate, and payment is often made in crypto-currencies or other non-standard payment methods.
Don't fall for these schemes. If you're looking to invest, do your due diligence and find a reputable advisor that you trust. While you're doing that, keep your options open. Learn more here.

Online shopping scams:
A name-brand purse for $5! That seems too good to be true. Again, we're sorry to break it to you, but it is. When you see an extremely low price on an item, purchase said item and it never comes, you've been scammed. These tempting ads are EVERYWHERE on social media. If the price alone doesn't send up the red flag, always type in the name of the site into Google to see what others are saying about it. If that doesn't help, poke around the website a bit. Likely there won't be contact information or the contact information will have a strange personal email address.
Romance scams:
We all want to find love, and many do find it online. But sadly some find it with ... well, criminals.
Does the person you're falling for have an excuse every time you want to meet in person? Does their story just not add up? Did they tell you a sad story about needing money to pay for some sort of emergency medical bill or travel costs? Do they request money as a wire transfer or gift cards? (FYI, they do that to get cash quickly and remain anonymous). So what if they've sent you 25 pictures of themself with family and friends and their excuses to not meet actually seem legit. Anyone can go onto social media and pull a lifetime of images from public profiles, and if someone really cares about you, they'll find a way to meet you. Go with your gut, if it seems off, it probably is.
These types of scams are not only common on social media but within online dating apps too.

Romance scams are extra dangerous territory to be in too because it can be incredibly difficult for someone who thinks they have a strong emotional bond with another online to see through it. So if you know of someone who you think may be a victim, offer to help them.
And remember, it may be easy for you to spot scams, but don't forget about other loved ones, especially older ones.
If you stay alert and question things, you should be able to navigate safely through your mom's vacation photos, your uncle's obnoxious memes and ... again, you get the point.