Adulting 101: Furniture shopping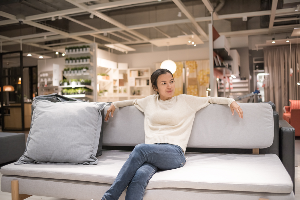 Soon after moving into my first house, I decided my days of IKEA furniture and hand-me-downs were over. It was time to invest in furniture that didn't require 25 steps to put together.

When in the market for new furniture, if you're anything like me, the struggle is real in trying to find the best value. Especially if you start or plan to do your shopping online. There are SO many places you can buy furniture.

And for the sake of not wanting to bore you with research on all the furniture styles out there, I'm going to focus on my most recent purchase – a couch.

Value = benefit / cost

In the case of my couch, the benefit is more than just "will this couch fit in my living room". It also has to do with quality. Will it break the second your kid decides to make it their jungle gym? And while it may be painful to shell out a couple grand for a new couch, it's better than having to replace it in a year or two.

So with ALL the options out there, how do you get the best value for your investment? I've got some tips.
Know how much you can afford. And stick to it. Don't get lured into applying for a store credit card. You only want to spend $1,000 on your comfy new couch, but you're approved for $3,000. Hello even bigger, comfier couch!

Not so fast. Stores get people with interest-free financing, but that's only applicable if the entire amount is paid within the time allotted in the offer. If you can't pay it off in the given window (because you didn't budget for that $3,000 couch) it could end up costing you hundreds more than you originally paid at a much higher interest rate.


Understand what it's made of. How long a couch will last and retain its shape is greatly dependent on its frame. A high-quality couch will always have a sturdy frame. Look for hardwoods like oak, ash or beech. Softwoods, like pine, can warp over time.



Keep in mind, veneers are popular, even in high-quality furniture. They're a thin piece of premium wood covering a lower-quality piece of wood. As long as the base piece is solid wood or plywood, the only drawback to veneer is it limits the number of times an item can be refinished.

How do you find out what the frame is made of? Request the information from the manufacturer or vendor. Oftentimes it's easy to find online. If you're in the store, an associate can provide the information.





Furniture "joinery". That's a new one! Joinery is referring to how the furniture is put together and is the main determinant of quality furniture. Is your couch or chair put together with wooden dowels, metal screws and brackets? That means it's likely solid. If it's put together with particleboard, nails and glue, keep shopping.

How do you find out how your couch is put together? Lift it up (safely). Do you see screws? Good. Do you see glue seeping out of the joints? Red flag.

If you're buying online, call the retailer and ask. Better yet, look at reviews to see if people talk about things like having to put the furniture together when they thought it came assembled or any mention of cheap materials, pieces not fitting together, glue, etc.

If you're looking at a piece on a marketplace website like Facebook or Craigslist, ask the seller if you can look at the piece before committing to the purchase.

Speaking of joinery, in the case of couches, make sure you inspect the legs. They should be made of heavy wood and jointed or screwed to the frame, not nailed in. Plastic, rubber or metal legs can tear up your floors and just won't hold up as well.


Measure! Measure! Measure! Yes, you should always find the dimensions of the furniture to make sure it'll fit where you want it, but that's not enough. If you have doorways in your house (um, yes?) or if you live in an apartment building, then you need to make sure it'll fit through any doorway, entryway, elevator, etc. – especially if it's oversized. Height, width and depth are important to note when checking for fit.

And speaking of depth, in the case of my couch, that was an important factor in my decision to buy. I wanted a big cozy couch that would be wide enough for two people to lay on because binging the latest series on Netflix requires maximum couch space.


Cushions. THIS is where shopping in person really comes in handy. There's no way to know the plushness of couch cushions online. Yes, reviews can shed some light, but only you know what you like. Another thing to note about cushions - it's a good idea to find removable covers that are easily washable, especially if you have kiddos and/or pets.


Don't rule out used furniture. Craigslist, Facebook Marketplace, family and friends. There are so many places to purchase or obtain good, gently-used furniture – sometimes even free. Just make sure to do a full inspection – paying special attention to stains, tears or structural issues.