Inspired by the Griswold's: IHMVCU's holiday favorites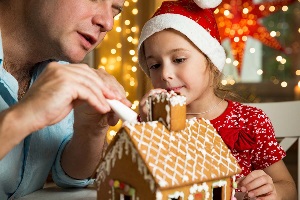 As the holidays approached, Clark Griswold wanted what we all want for our families during this season – time together and holiday cheer…or as he said in National Lampoon's Christmas Vacation "We're gonna have the hap-hap-happiest Christmas".

The biggest tree. The most lights. A big end-of-year bonus. The whole family together.

But as most of us know, that's not quite how it went for the Griswold's.

When thinking about a topic to write about this holiday season, this movie instantly came to mind for me. We watch it every year - whether it's after the turkey on Thanksgiving, while decorating the tree or on Christmas Day.

It's a tradition for my family, a holiday favorite.

So I know what my favorites are, but what about others? There are so many different family dynamics, religions and cultural traditions out there – so I asked our team…what's your holiday favorite?

Below are their responses. Who knows, maybe some of you will find something new to weave into your holiday traditions!
And if you're looking for fun holiday-themed things to do over the next few weeks, check out this blog post by VisitQuadCities.com.
Instead of a big meal for Christmas we do appetizers. I love finger foods!
-Sarah
My favorite thing is sled presents. Names are exchanged at Thanksgiving and gifts valued around $5 each that are held in an old tabletop sled. We use these gifts to kick off our holiday the Sunday before Christmas, along with a fancy meal and family gathered around the table.
-Julie
We do stockings and EVERY year Santa includes an orange and an apple.
-Kat
Our family makes 2 homemade ornaments each year and exchange them. Our tree is all homemade ornaments made over the years!! It's fun to place them on the tree and recall the memory of the specific ornament.
-Nikki
Before my mom's passing, my family would come together on Christmas Eve to eat and drink. Of course, in our Hispanic Christmas you can't forget the infamous tamales and ponche. Poncho is a sweet, delightful cider full of fruits and cinnamon. I remember my mom always adding something extra (if you know what I mean…). By midnight everyone would sit around the tree to open gifts while my mom would sit with her ponche.
-Yahaira
My family does a white elephant gift exchange every year. The gifts have to be free and are usually collected from around the house. Everything is either given a ridiculous family backstory (usually involving the Mayflower) or is something that was taken from my grandma's house last minute to be wrapped. Some highlights have been a jar of rocks, Sophie's Choice, and a pair of 70's polyester shorts. I was thinking about wrapping her second cordless phone this year…
-Katlyn
We began a new family tradition over the last few years. The night before Christmas Eve, I let everyone open one present that I put together that contains matching flannel pajama bottoms, customized shirts (last year a few of our shirts said things like Most likely to shake presents and Resting Grinch face) and fun socks that match our favorite things! We make hot chocolate and watch Christmas movies all night. My teens BEG for this now! They aren't however thrilled when I make them take pics in all of our matching pajamas.
-Albrey
I have a house that celebrates both Hanukkah and Christmas. For Hanukkah we love to make Latkes. When I have my nieces and nephews over, they take turns reciting the prayer and lighting the candles. There is always the telling of the Hanukkah story and of course, we watch the Rugrats Hanukkah episode. Ever since I can remember we've done a small gift opening on Christmas Eve. It's now turned into my mom making boxes similar to the ones Albrey posted above for the grandkids. I also love to wake up early and cook a massive breakfast for everyone.
-Missy
We take our tree down before Christmas and give it to anyone in need of a tree, fully decorated. Most years it goes to our neighbor, a young man that lives with his brother and a bunch of bachelors.
-Tricia
For more than 20 years now we listen to the old RKO (radio broadcast) version of Charles Dickens, a Christmas Carol on CD, as we are driving out to my uncle's bed in breakfast for our Christmas Eve gathering. My favorite part is right before the show begins, they read the Christmas story from the Bible.
-Lynda
Every holiday season, me and my fiancée's favorite coffee shop has a tree for kids. We grab a tag of it and go shopping for the things on there. But the one thing that always sticks out to me is she insists we get socks as her grandma grew up poor and said new socks were always the kids' favorite thing. So the kids get the items on their wish list, plus new socks.
-Brice
We play National Lampoon's Christmas Vacation on loop when we decorate the house! On Christmas Eve everyone gets a gingerbread house kit to build and decorate themselves. I have adult children and some can end up looking pretty cool! Our Christmas Day always starts with the same yummy breakfast: caramel rolls, breakfast casserole and mimosas!

-Jennifer
Christmas tree and decorations must go up Thanksgiving weekend - I won't have it any other way. At some point between then and Christmas, each kiddo makes a gingerbread house too. We have to do a scavenger hunt on Christmas Eve for gifts. It's a thing. I can't even try to get out of now, it's just expected. Santa comes while we sleep. Oh, and one thing I'll kind of be glad to be done with - the ELFFF, who recently showed up and will haunt me until Christmas Day!
-Lisa
Growing up, we hopped into pajamas on Christmas Eve, drank hot cocoa, ate popcorn and watched Home Alone. After the movie, my dad would read The Night Before Christmas.
-Madison
For the last few years, my boyfriend and I have driven around one night around Christmas to look at everyone's lights and decorations. We drive all over the place just listening to music and enjoying each other's company, then we will go get dinner. It's simple, but I look forward to it every year.
-Jordan
Tell us, what's your favorite holiday tradition?