Open enrollment season is here: What's it mean and what's the right amount of coverage?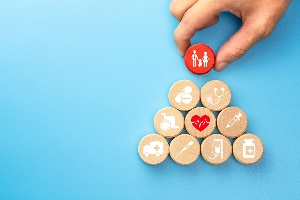 We all know the last couple of years brought nothing but uncertainty, so with open enrollment upon us, we want to make sure you know one thing is certain: your health insurance coverage.

Today we'll cover:
What's open enrollment?
What's a qualifying life event?
When is open enrollment?
Open enrollment terms.
How much coverage should you have?

What's open enrollment?
Open enrollment is a period of time each year during which changes to health insurance can be made such as enrolling, waiving or changing plans that are ordinarily subject to restrictions without a qualifying life event.
What's a qualifying life event?
Some of the main life events include:
Loss of health care coverage (loss of job, turning 26, losing eligibility)
Changes in the household (i.e. marriage, divorce, baby, death)
Changes in residence (moving to a different coverage area)
To see more details and other qualifying events, visit healthcare.gov.
When is open enrollment?
Open enrollment officially began November 1 and coverage selected is effective starting January 1 of the following year.
The federal open enrollment period runs from November 1, 2021 through January 15, 2022, for health insurance coverage beginning in 2022. In order to get coverage starting January 1, 2022, you need to sign up by December 15, 2021.
It's important to check with your employer about your specific open enrollment dates as they may vary slightly from the above timeline.
Note: If you are approaching age 65, it's good to look at your Medicare options. More information can be found at medicare.gov.
Along with open enrollment comes a lot of words you may or may not know the meanings of – premium, out-of-pocket max, deductible, to name a few.
To help you as you consider your options, I've put together some of the most important terms and definitions to help you as you're selecting the best plan for you and your family.
Open enrollment terms:
Premium – The amount you pay for your health insurance every month. If you get health insurance through your employer this amount is typically taken out of your paycheck.
Copay - A set dollar amount you pay for a covered health care service, usually when you receive the service. When you go to the doctor, they scan your insurance card, then let you know you have a copay amount of $X.
Deductible - What you pay out of pocket for health care services before your plan begins to pay a portion. This means you pay 100% of your health expenses out of pocket until you have paid a predetermined amount. At that point, insurance coverage kicks in and you pay a percentage of your bills, with the insurer picking up the rest.
Coinsurance - Your share of the costs of covered health care services after you reach the deductible. You pay a certain percentage, and the medical plan pays the rest.
Out-of-pocket Maximum - What you have to pay before the plan pays 100% of your covered costs. What counts towards this maximum? Payments towards your deductible and what you spend on copayments or coinsurance.
Network - You'll often see "In-Network" and "Out of Network" listed when searching for a doctor or a service. The "In-Network" facilities and providers are ones the medical plan has contracted with to provide health care services. For example, a doctor may charge $150 for a service, but your insurance provider's contracted amount for that specific service at that facility is $100. So as a member of that insurance plan, you save $50.
Here's a visual to help you better understand how the deductible, coinsurance and out-of-pocket maximum work together using the example of an 80/20 coinsurance plan.

Now that you have a better handle on terminology, how do you know what coverage you need?
What's coming up?
When I'm choosing a health coverage plan, I try to look at upcoming events I'll have for the year. These may include surgeries, childbirth or planned medical procedures.
What can I reasonably afford out of pocket?
Okay, I know of a few things that may be coming up this year, but I also need to be prepared for the unforeseen, high-cost events. That's what insurance is for after all. Next, I look at deductibles and the out-of-pocket maximums.
Out-of-pocket maximums are important because this is the most you would ever pay within that plan year for any services. According to Value Penguin, the average out of pocket maximum for those who have health insurance through their employer is $4,039.
What are my additional benefits?
Lastly, I look to see what extra benefits are available such as employer contributions or tax benefits offered with the health plans (ie. Health Savings Account, Flexible Spending Account).
In other words, I need to understand:
Do I know of any medical procedures/events that could be coming up?
How much I will have to pay before I share the cost with my insurance company?
What's the most amount I'll pay in a plan year?
Are there any additional benefits that I need to be aware of that would make a difference in my coverage or what it would cost?
Understanding the answers to those questions will help you make the best decision possible when it comes to your health insurance plan, but always make sure to consult with your insurance provider or employer for more information.