4 tips to get the whole family ready for back-to-school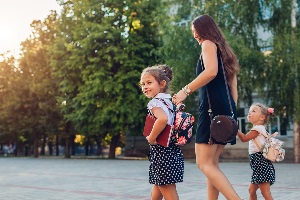 I'll admit, I'm feeling a little rusty with this back-to-school stuff. This time last year I was just trying to keep up with the ever-changing guidelines from the CDC and school.

I wasn't worried about my kids having new Frozen and Avengers backpacks. I was worried about how they were going to safely receive their education. I was worried about what I was going to do as a working parent if they couldn't physically go back to school. I was worried that -- even if they could go to school -- was it right to send them?

But ready or not, here comes the 21-22 school year -- hopefully with fewer hardships.

To help ease my mind, I recently chatted with other moms and dads about what they're doing to get ready. Here are some of their best tips.

School supplies. When it comes to backpack essentials like pens and notebooks, the big retailers deeply discount their inventory just before school starts. So don't fret if you haven't been to the store yet. Just know inventory may be picked over, so if your kid insists on a pink notebook, you may want to go sooner rather than later.
And before you hit the store for those essentials, do some comparison shopping online (hello, Amazon). This way, you can be sure you're getting the best price. You may also come across some coupons online that can be used towards your purchases – winning!
One dad was surprised to find Five Below was well stocked with school supplies. He appreciated knowing nothing was more than $5 and his kids enjoyed all the different options.

Visually get everyone excited. Kids are visual learners. Consider buying a whiteboard calendar or printing a monthly calendar to help your family see what's coming up. What day does school start? When's big sister's volleyball practice? When are grandparents coming to visit? That way you can all get excited for the upcoming year and be on the same page with schedules. (Another win!)
Consider creating a morning checklist, too. Heading back to in-person learning will require kids to get out of their jammies and pack a lunchbox. Throw the checklist up on the whiteboard so they know what to expect for their mornings and hopefully won't forget anything important (ahem, teeth brushing).
Routines. Most parents I talked to start getting their kids back into a school routine one to two weeks ahead of time. Earlier to bed and earlier to rise. One parent also said they talk to their kids about ways to get organized the night before school to make mornings go smoothly.
Calm their nerves.​​ Last year was my youngest son's first year in middle school. He was so nervous about finding his classes, so we wrote down the information he needed on an index card that he kept handy in the side pocket of his backpack for a quick reference. He only needed it for the first few days, but it really helped calm his nerves.

Also remind your kids it's okay for them to ask for help. Whether the issue is simple, like the one I had with my kid or more in-depth like needing extra help in math class, we want to reassure our kids that school is a safe haven, which is something that's been lacking for so many during the pandemic.

We wish your kiddos and family the best of luck this school year -- you got this.