How to enjoy vacation without breaking the bank: 5 tips from a seasoned traveler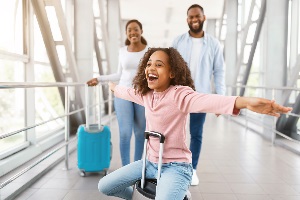 Ahh vacation…the excitement really starts when you leave work knowing you're checking out for the next few days.
You basically skip out the door (or maybe that's just me?), go home to finish packing, drop the dog off at the kennel, gather snacks for the kids, make sure the doors are locked up and the trash is taken out…then you're off!
Everyone loves vacation. But you have to admit, there is usually some stress involved.
I'm not talking about stressing over the kids' nap schedule or your flight's arrival. I'm talking about the financial stress. You've already put a big dent in your wallet booking your trip but you still have to pay for food, parking, excursions, souvenirs, and more.
So how can you fully enjoy your vacation without breaking the bank? Below are a few tips that have worked well for my family over the years.
Budget. Yep, that word.
Ideally, you established a budget before deciding where you were going that helped guide the planning process. If you budgeted $1,000 for a family vacation, Hawaii was probably quickly crossed off the list.
So by this point, you've likely already paid for the big stuff…flights, hotel/Airbnb, rental car, maybe tickets to a few events or parks. Write all of that down and see what you've spent vs. what you had hoped to spend. Do you have a good cushion for expenses at your destination or are you going to have to watch what you're spending closely? Have a good idea of this before you take off.

Eat out less
Out of all vacation expenses, once you're at your destination, US travelers spend the most on food.
Eating out can add up quickly, especially if you are feeding a family. The average commercially-prepared meal costs around $13. For a family of four that's at minimum a $60 bill every time, not including any drinks or extras. And if you're like me, it's hard to say no to a margarita on vacation.
A four-day trip and three meals a day = $720 minimum...ouch
My husband and I prefer staying at vacation rentals and always look for rentals that have a kitchen. At least somewhere with a fridge, microwave, stovetop and bonus if there's a grill.
Run to the local grocery store when you arrive and stock the kitchen with fresh food to cook a few meals. We typically make a big breakfast before we head out for the day, then bring a snack or buy something small to share to hold us over until dinner.
Or if we are doing a beach day (which is our favorite thing to do on vacation) we make sandwiches to bring with us for lunch.
If your lodging doesn't include a kitchen, you can still save by buying non-perishable meal options and grab-n-go snacks.
Overall, eating out can be a fun part of vacation but avoid eating every meal out to save money.
Talk to locals!
My husband and I once asked our Uber driver in Maui where to get the best poke expecting him to say a restaurant. Nope -- the local grocery store's deli counter. You better believe we stopped there every evening because not only was it WAY cheaper than a restaurant, they discounted it after 5 p.m.!
There are so many "hidden gems" we've experienced after talking with locals. Usually you'll find they love talking to you because they're telling you about something they love – their city.
(PSA: if you like sushi and haven't had poke, you need to change that soon. I've heard Eddy's Snack Bar is a good choice for this!)
Shopping
Unless you're going to the Mall of America, shopping is probably not something high on your priority list, yet it always seems to find its way into vacation itineraries.
In my not-so-professional opinion, one of the reasons we like to shop is because we are looking for something that will remind us of our trip. You know, the shirt that says I <3 Orlando that you'll only wear once.
My family used to buy all those things, but now we have a new tradition.
Every place we go we find a magnet that reminds us of our time there. When we get home we all gather around the fridge, look at our collection of magnets and find the perfect spot for the new one. You could also do this with holiday ornaments.
Enjoy yourself
Once you know where you stand with your budget and have a good plan in place for ways you can save money at your destination, relax and enjoy! It's always hard to find a balance between being money conscious and enjoying your time to the fullest. Remember that time with loved ones is the most precious thing, so don't lose sight of that.