12 ways to reduce your utility bill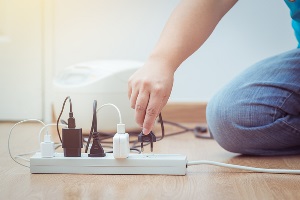 Utilities can add up if you're careless and don't use them efficiently. But the power is in your hands. Cut back on energy usage and guarantee yourself a manageable monthly bill — it's easier than you think.
These 12 tips will shrink your utility bills in no time and have you energetic for savings.

Install dimmer switches
Turn down for what? Savings! A quick glide of the dimmer switch will not only improve your home's aesthetic appeal (hello, mood lighting), but it can also keep you from busting your budget on utilities. Less light = less power = more savings. Plus, dimmable lights can help extend light bulb longevity. Here's a great tutorial from Home Depot on how to swap your switches.


Switch to LEDs
The U.S. Department of Energy says LEDs use at least 75% less energy and last 25 times longer than traditional incandescent lighting — which means they can save you a pretty penny on your utility bill and replacement costs. Additionally, a 2021 Statista Research Department report projects LEDs will account for 87% of all light sources by 2030. America's making the switch to LEDs and you should too!



Install motion sensors outside
A well-lit entrance or exit is an essential safety feature – not only does it make coming and going easier, but you can also see anyone else who might be outside your door after the sun goes down. But leaving your outdoor lights on all night is unnecessary. Install a motion sensor on the light above your entrance/exit and only pay for the light when you need it.



Get big benefits with low-flow
Those long, luxurious showers you take to unwind at the end of a stressful day can really add up. On average, U.S. families use nearly 40 gallons of water a day in the shower alone. Switching to a low-flow showerhead equipped with the EPA's WaterSense label can lead to buckets of savings (not to mention water conservation).


Eliminate phantom energy
Phantom power — the energy used by all your electronics and appliances while they're turned off but still plugged in — is wasteful and costly not only for your wallet, but for the environment. According to the Lawrence Berkeley National Laboratory, the average home has 40 products (TVs, refrigerators, digital alarm clocks and more) constantly guzzling power in the background. To save money, unplug electronics and chargers when not in use, and consider upgrading to a Smart Strip surge protector to make sure devices get automatically turned off when not in use.



Energy Star products
Out with the old, in with the new. EnergySage says Energy Star certified appliances use 10-50% less energy than standard appliances depending on model and usage. Your options might be limited if you're renting and no one expects you to replace the dishwasher in your apartment, but homeowners in the market for new appliances could benefit from an upgrade to a more energy efficient style.



Cold wash clothes
Energy Star says 90% of a washing machine's total energy is used just heating the water for a hot wash. Buy a cold-water formula detergent and skip the hot water on normal loads. Save the hot water cycle for greasy stains and you'll see savings.



Nighttime chores
Did you know electricity costs less between 10 p.m. and 8 a.m.? Some power companies offer discounted rates during non-peak hours. Save a few bucks by running the dishwasher or washing machine during off-hours. Check out MidAmerican Energy's rate information for details on "Optional Time-Of-Use Rates."



Install insulation and weatherstripping
A well-insulated home helps reduce energy bills by resisting the transfer of heat out of the house in the winter and into the house in the summer. But according to a report from the North American Insulation Manufacturers Association, 90% of single-family homes in the U.S. are under insulated. From attics and crawlspaces to ducts and exterior walls, Energy.gov has some great info on where to insulate in your home. Don't forget to add weatherstripping around windows and doors to help seal drafts.



Change filters regularly
Filters clogged with dust, dirt and other contaminants make your HVAC system run harder, resulting in a more expensive bill — not to mention poor indoor air quality. Experts recommend changing your filter at least every three months to keep your furnace in peak condition, extend its lifespan and prevent buildup. Set a reminder on your phone so you don't forget!



Use ceiling fans
Fans don't make air colder, but they're great for making a room feel cooler than it is. They circulate the air which helps your AC spread cooling power throughout your home more efficiently. Keep your ceiling fans on if you have them or place a couple box fans strategically in the rooms where you spend the most time.



Get a programmable or smart thermostat
A digital thermostat can help you maximize your energy savings by letting you program different temperature settings while you're at work or sleeping. A smart thermostat even allows you to monitor and set your home's temperature right from your smartphone or tablet, so you can adjust the settings if you work late one day or extend your vacation.

Saving money on utilities doesn't have to be difficult. It might take a little extra green to make the initial investment for some of these methods, but the savings will be worth it in the long run.
Pro tip: Don't forget reduce, reuse, recycle. Not only will you help the environment, you'll help your wallet as well.

Looking to make bigger changes than what's mentioned here? IHMVCU has you covered. Check out our Home Equity Loans.