Best Home Improvements for Resale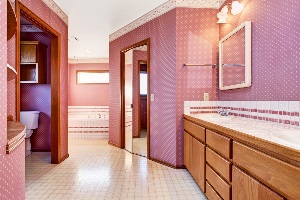 My wife and I started to outgrow our home and it was time to think about selling and buying a bigger home. Then it dawned on us both: the pink bathroom. No one was going to want to buy our house because of this eye soar.
We contacted a seasoned real estate agent and they came over to assess our home. The first thing out their mouth was: "you need to redo the bathroom." Not, "think" about it, we needed to. They explained that it's an update that pays for itself when it comes to selling the home. The money we would put into it, we would get out of it and then some. So we did. Goodbye pink, hello white!
If you're thinking of selling your home, consider one of these upgrades to increase your listing price:
Garage door replacement

Instantly transform your home's curb appeal with a full garage door replacement, including a lifetime warranty. This often-overlooked feature can span nearly 30% of your home's façade, making it one of the easiest (and most noticeable) makeovers you can perform.


Manufactured stone veneer siding

Real stone can get expensive quickly, but manufactured stone veneer siding can give you all the same charm at a fraction of the price, and for more recouped cost at the sale.


Steel entry door replacement

Your front door is an important statement piece and should be both beautiful and functional. Steel entry doors are a great option because they're sleek, durable and versatile. Made of 20-guage steel, a steel entry door offers peace of mind for any homebuyer.


New wood deck

Adding a 16-foot by 20-foot pressure treated wooden deck with stairs offers an oasis to entertain family and guests during warmer weather, not to mention adds about $9,000 in value to your home.


Minor kitchen remodel

Outdated kitchen? Rethink the luxury overhaul you saw on reality TV and start with simple swaps that will enhance the overall space. New cabinetry and upgraded countertops can make a big difference, and new energy efficient appliances will only add to your resale value.


Siding replacement

If the outside of your home is looking a little rough and weathered, breathe new life into the exterior with new siding. This instant facelift boosts curb appeal and energy efficiency, and you'll recoup an average of more than 76% of the investment.


Minor bathroom remodel

Everyone uses the bathroom, so improving the function and aesthetic will help you score major points at resale. Even a modest guest bathroom remodel, which can include things like new fixtures, hardware, vanity or tub and floor tiling, will do wonders to enhance the space.


Roofing replacement

few loose shingles from a recent storm probably won't scare off buyers, but leaks, sags and cracks will require some TLC before listing. To make a good first impression, a full roof replacement might be your best (or only) option, adding more than $14,000 to your home's resale value.


New composite deck

living has become more desirable, and a new composite deck makes it easier for homeowners to enjoy the great outdoors. Composite decks look similar to traditional wood, but last much longer and require less maintenance.


Additional bathroom

When it comes to dirty kids and extra guests, more bathrooms are always welcome. Even a 6-foot by 8-foot bathroom addition can boost your home's value by more than $25,000.
Source: https://clovered.com/10-best-home-improvements-with-the-most-return-at-resale/