What I learned during my college visits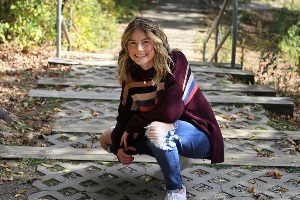 It's senior year. Which means hello, college. Bye bye, mom and dad. But first, I should probably decide which college to attend. Enter college visits. As if visiting colleges wasn't intimidating enough, throw a pandemic in the mix. My visits were a little less than traditional but I still felt like I got a great sense of the campus and community. I'm so glad I made the trips.
The first college I visited was Augustana College in Rock Island, Illinois. I chose to visit Augie because of the smaller campus, the softball program, and the close to home location. Next, I visited Illinois State University. I wanted to see how a larger campus compares to the smaller one at Augie. I've also heard great things from family and friends. My plan is to major in Communications/Media & Entertainment with a minor in English. So I was hoping to get a better idea of these programs at each school during my visits. Now, I haven't made a final decision yet but I do have these tips for anyone looking at colleges:
Ask all the questions
Softball has been a huge part of my life since I can remember and I don't want that to end just because I'm graduating high school. I hope to continue playing on the collegiate level, specifically at Augustana. During my visit it was important for me to ask questions about what my schedule would look like, where my grades need to be, and what would be expected of me as a student-athlete. Plus, I wanted to know if the coaching staff and team would make me feel comfortable and almost like I'm at home.
Money should play a pretty big factor in where you decide to go. It may not seem like a big deal now, but you don't want to be overwhelmed by loans four years from now. Be sure to ask about scholarship opportunities and financial aid.
Hopefully, you get to go into classrooms during your college visits to see if they are big enough for you, or even if they are too big. Class size is important. You know your learning style best so make sure you'll be in a class that works for you. If you're looking for a school with lecture halls that look like the ones in movies, then ask about that. And if classroom visits aren't part of the traditional tour, ask to see one (or three) anyways!
Chat with more than just your tour guide! Find students to ask questions that only they have the answer to. Ask them how they knew that college was the one, what they love about the college... or don't love. Ask them about the walks from the dorms to other buildings. I don't want to be stuck trekking 20 minutes from my dorm to class in a blizzard. Getting the inside scope from a variety of students will give you the best idea of what your next four years could look like.
Try the food
Unfortunately, I did not get to try any food on my visit (thanks again, COVID-19). But by asking the right questions, I got a pretty good understanding of all the food the campuses have to offer. Ask about the variety of food too, especially if you're a picky eater like me. Are the dining halls switching up their menus regularly? You don't want to be eating microwave nachos every night.
Pick up a copy of the school newspaper
If a newspaper isn't around, make sure you really read the bulletin boards when you walk by them. If you know someone currently at the college, ask them all the questions you have. They know better than anyone what campus life is like, where the good food is, and maybe have some tips and tricks for finding your people on campus. Not to mention, as a friend, they will give you an honest answer too.
Pack your mask and hand sanitizer
We are still living in the middle of a global pandemic. No matter how you feel about your mask, it is important to always wear it (cover your nose, too). This will help keep students safe so they're able to stay in school. It also ensures the safety of everyone around you on your visit. And even if we weren't in the middle of a pandemic, its probably smart to sanitize your hands. Imagine how many people touch that doorknob daily.
Trust your gut
When you walk on a campus and you feel at home, listen to your intuition. When you are on a campus and you know deep down that it's not for you, trust your gut. This is where you will be spending the next four years of your life (or more). It is important that you feel safe, at home, and happy. Make sure you'll have the things you need to succeed available to you at the place you'll call home.
Going away to college is very scary. The thought of leaving home and moving on is stressful. Choosing a school that feels like home is so important, and the only way to know if it's the right school is to visit. I encourage you to remember the advice above when you're headed to see a new school. It will help make your visit less stressful and more enjoyable.