Should I refinance my auto loan?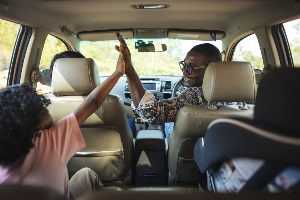 Finding the best loan for your situation can be tricky, and ensuring you're refinancing smartly can be even tougher. Generally, you want to make sure the terms of your new loan are as good – preferably better – than your current loan. But, of course, there are always exceptions. Here are some tips to make sure you're refinancing for the right reasons and in the right way.
When to refinance
Interest rates have dropped
When interest rates drop, it's almost always a good idea to look into refinancing. The lower the interest rate, the less you pay above the car's purchase price. A lower interest rate will give you a lower monthly payment, as well. You'll pay most of your interest at the start of the loan, so if this is your reason for refinancing, it's best to do it shortly after purchasing your car.
Your credit score improved
The lower your credit score, the higher your interest rate. If you've been able to keep up with your bills, lower your debt and pay off credit cards for a sustained period since you got the loan, it's possible your credit score has improved enough to receive better loan terms. When you check your score, make sure to use a source that won't hurt your credit. Equifax.com has more information on different types of credit checks and how to get your score.
Pro tip: Read up on ways to improve your credit score by 100 points.
Your financial situation has improved
Maybe you've recently been promoted or received an inheritance from granny. This is the time to consider changing your loan term (how many months you loan is for). A shorter loan term generally equals a lower overall cost. But, it also usually means a higher monthly payment. If your financial situation has improved since you purchased your car, and you're able to take on a higher monthly payment, it's a good idea to look into refinancing. On the flip side, it's better to avoid extending your loan term. Although your monthly payment is likely to decrease, the amount you spend on interest will increase.
You don't like your lender
It's not unreasonable to refinance because you're having trouble with your lender. It's imperative that your lender provide good service and transparency. Make sure the new loan has equal or better terms than your current loan.
Mistakes to Avoid
Refinancing too soon or too long
When loan officers look into your credit, your credit takes a hit. If you have less than ideal credit to begin with, it's best to wait at least six months to a year to allow your credit score to recover. Additionally, if you've purchased a new car, as soon as you drive off the lot, it's now used. Loans for used cars have higher interest rates, so waiting for the depreciation to even out is also advisable.
On the flip side, if you don't have much to pay off, you may not save much (if anything, by refinancing). Calculate your interest savings and compare it to the total cost of the loan (fees included), before you refinance.
You're upside down
When you're upside down on your loan, you owe more to your lender than the car is worth. Refinancing at this time will likely result in a higher interest rate and an even higher total cost. It's especially important to try to pay off loans faster, if possible, to even things out.
You have prepayment penalties
It feels counterintuitive, but some loans will penalize you for paying faster than the terms specify. If your loan includes prepayment penalties, you should do the math before refinancing – if refinancing will still save you money after paying off your current loan, even with the prepayment penalties, it might be worth it. If not, you should probably stick with your current loan. Of course, it's best to avoid prepayment penalties from the start, if possible. Be sure to ask about this when refinancing or applying for an initial loan.
Top takeaways
Although you don't want to refinance too soon, you also don't want to wait too long. It's best to refinance toward the beginning of your loan when you're paying off more of the interest.
Do the math before applying for a loan to be as sure as possible you won't go upside down.
Look at the whole picture of your budget to determine if you can afford the monthly payments.
Ask about prepayment penalties before applying.
Do your research and apply for the shortest loan term with the lowest interest rate that you can manage.
Make your payments on time and in full every month.
If at all avoidable, don't refinance for a longer loan term, which usually leads to more interest payments and a higher overall cost.
Be sure to check out our loan calculators and other helpful tools while you're making your decision.