How to Talk to Aging Parents | 6 Questions to Start the Dialogue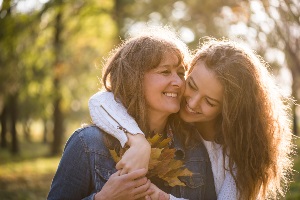 Talking about end-of-life necessities might not be fun, but it is important for everyone
Oh, 30-something. It's an interesting time of life. Some of us are married, some aren't. Some of us have children, some don't. Most of us have parents who are starting to navigate the difficult parts of getting older, and many of us want to be by their side through it all. But to do that effectively, we'll have to have some difficult conversations. It's important to talk your parents now about what they want this stage of life to look like, When (and if) they can't speak for themselves, we know that we can honor them and ensure the process unfolds in a way that gives them peace. Yes, the initial conversation might be awkward, but when it's over, everyone involved will feel better, and your parents will know you cared enough to ask.
First things first: How to start the conversation
Most people don't like talking about death. It's a tough topic to broach with your peers, much less your parents. How do you even get started? Sometimes, patience pays off – wait until they make a sarcastic comment about nursing homes or bring up something that's been difficult with their own parents. Use this opportunity to say, "Hey, maybe we should discuss a few things about how I can make sure you'll be happy during this time of your life?" or "I'm sorry that's been so tough. I think it could be helpful for us to discuss these things now so that if and when the time comes for us, we've already talked through it, and I'll know what you want."
If this doesn't happen naturally, that's OK. You might also bring up how you intend to have a similar conversation with your children one day and ask if your parents would like to do the same now. If a direct conversation isn't in the cards, consider asking a neutral party to help, such as a mutually adored family member or a professional mediator. Again, it might not be the easiest conversation you've had with your parents, but there's always a way to have "The Talk."
Questions to have on your list
Who do I contact?

Your parents might have attorneys, financial advisors and accountants you'll need to get in touch with, or you might just need a list of their doctors. Either way, get the list now. Make sure it includes phone numbers, email addresses and other pertinent contact information – or find out where they keep this information. You'll also want to make sure that you, or the party they've entrusted, can quickly access the information if needed.

Have you started estate planning?

A will goes beyond how and to whom your parents want to distribute their finances and property, though it can cover these things as well. It also dictates who should care for pets, who shouldn't receive assets, who has custody of children who are minors, and more. Having a directive that outlines these things can help avoid stress and confrontation after a death or incapacitation. Regardless of the role you are to play, if you plan to help during the aftermath, you should know in advance how your parents want things to go. If they don't have a will, now is the time to suggest they look into making one. If they haven't revisited their will in five years or less, suggest they take another look to ensure it still accurately reflects their current wishes.

A verbal dictation won't necessarily hold up in court, so it's important to have this document in writing and processed through the necessary legal channels. Additionally, if someone dies and does not have a will, the courts make these decisions for the family, which can take an extreme amount of time and money.

US News & World Report has a great easy-to-follow guide for creating a will and understanding the benefits.

Have you established advance directives?

An advance directive is a legal document that explains how you want your medical care to proceed if you are unable to advocate for yourself. It might be part of your will, and it determines who should make medical decisions on your behalf. MedlinePlus and the American Cancer Society offer further information on advance directives, including why they're helpful and how to establish them. Whether you will be your parents' advocate or not, you should know who will be in charge and how they hope this person will advocate for them.

Who has power of attorney?

This could be the same as the medical advocate, but it might be someone else. The person appointed in the power of attorney documents can make legal and financial decisions on your behalf if you become incapacitated or after your death. Again, whether your parents have designated you as their power of attorney or someone else, you should know this in advance. If they haven't determined this yet, it's important that they do so now. Otherwise, you could find yourself back in court.

Where do you have financial accounts, what are they, and who is authorized to use them?

This is not just a question for after life, but for end of life and possibly before that. You'll need to know this information to cover expenses including medical care, attorney's fees, funeral expenses and more. If you are an authorized user, be sure you have account numbers, passwords and any other information you might need to access the accounts if and when your parents can't. Additionally, check with the banks, credit unions, or other financial institutions to ensure all necessary paperwork has been filled out and is in order.

Do you have long-term care insurance?

Long-term care insurance covers expenses that health insurance generally doesn't, such as assisted living and nursing home fees, as well as in-home health assistance for the day-to-day activities, such as bathing, getting around the house, dressing, etc. Long-term care insurance isn't cheap – but neither are these services. Spending the money now could save you money later. Ask your parents if they've looked into policies. If not, encourage them to do so. You only qualify for this insurance before you need it, so be sure to weigh the pros and cons carefully. Visit NerdWallet for a comprehensive guide to long-term care insurance, including who should invest, what companies offer it and some viable alternatives.
Avoiding end-of-life discussions and failing to help aging loved ones prepare can make the whole experience painful for the entire family, and more difficult in the long run. It is to everyone's benefit to discuss plans and preferences in depth as early as possible.