Is a Business Account Right for You?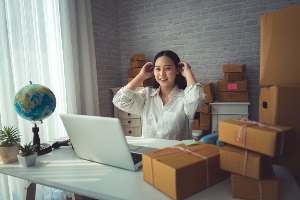 Congratulations on starting your new business! There's a long checklist of tasks to be done. One of the first should be to set up a business account – even before you have a product or service ready to hit the market.
Benefits of a Business Account
Sure, you could just use your personal checking account, especially if you're the sole proprietor. Other than the fact that some financial institutions may not allow that, especially if you're making a number of large transactions, but you'd be missing on services that protect your business.
According to the US Small Business Administration, benefits of opening a business account include:
Protection for both you and your customers. You'll enjoy personal liability protection by not mixing business and pleasure, so to speak. Merchant service protection also keeps their personal information secure.
Customers will take you more seriously and see you as a professional when they can pay by credit card or make a check out to a company.
You'll save time with the ability to authorize employees to manage daily financial tasks.
Often times a business account includes a company line of credit. This could help prepare you for emergencies or start-up equipment.
You'll start establishing credit history for the business.
Choosing an Account
Now that you understand some of the benefits of opening a business account, let's talking about choosing the right one.
Do your homework. You may already have a financial institution in mind to open your account with. If so, that's great. If not, talk to friends and ask them where they bank, what they like about it and what they dislike about it. Check out online reviews. Physically walk into the lobby of different branches to see how welcomed you feel.
Start with basics. What are the minimum balance requirements? Is it just the initial cost of opening the account? Are there fees if the balance falls below a certain amount?
Speaking of fees, what's the fee schedule? Understanding account fees and costs in the early stages will help avoid surprises down the road. Is there a fee just to have the account? What's the overdraft fee? How much are checks – both initially and when you need to reorder? Are there ATM, management or inactive account fees? Make sure you're aware of any possible fees tied to the account before selecting one.
Explore transaction and transfer limits and requirements. Are there perks – earning dividends, ATM fee reimbursement, etc. – for hitting a minimum number of transactions? Are there transaction limits?
Can you earn more with the account? You'll want to do more than just find out of the account is interest bearing. Ask how the interest is calculated and if there are eligibility requirements.
Is online banking available? Is there a fee for this service? Is remote deposit an option? And can you batch process checks?
Next Steps
Choosing the right account and financial institution is likely to be the most time-consuming part of this process. Next, you'll want to gather the following information and documents:
Employer Identification Number (EIN) (or Social Security number if you're the sole proprietor)
Business formation documents
Ownership agreements
Business license
Some financial institutions may require more, this is just a general list. Be sure to ask. For instance, we provide a Required Documents for Business Accounts checklist to make preparation easier.
Documents ready? Now you're all set to make an appointment at your chosen financial institution to open your business account.
Pro tip: Scheduling an appointment to open your account will save you time and ensure a smooth, pain-free process.
To speak with a member of our business services team, call 309-793-6200, stop by any location or email our business team.