What a Financial Emergency Taught Me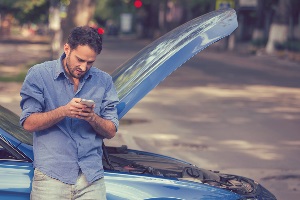 About 7 years ago, I get a call from my husband that our little Mazda (we called her Betty) broke down in the middle of downtown Moline. This immediately made me panic. Thoughts like: "how are we going to afford a new car? We aren't. Maybe the repair won't be that bad?" raced through my head. My husband called a towing company and had it sent off to a local mechanic shop (shout out to Precision Auto for their help). I then realized in addition to the repair costs, we'd be paying for the towing. After a stress-induced text to a friend, she suggested I give insurance a call to see if they would pay for the towing. And sure enough, they do!

Later that day, the shop gave us a call to tell us the inner axle broke in the car and it would be over $500 to repair. Between childcare costs, mortgage payments, and other bills there was no way we could afford this. We we're living paycheck to paycheck at the time and unfortunately didn't have an emergency savings. That's when I swallowed my pride and called my credit union to ask (no, beg) about our options. Fortunately, they were there to help. After a little research, they found we had some equity in our vehicle. Turns out the extra small payments (and I mean small) really paid off in the end. Between those payments and the low mileage on the car we had enough equity to refinance our auto loan with the repair costs tacked on to it.

Our sweet Mazda lasted us another six years until we finally decided to upgrade.

So, what did this experience teach me?
Extra payments add up – no matter how small. We had heard that making extra payments toward a loan can really reduce the amount of interest you pay and how long you have the loan for. We didn't realize it could also help us in an emergency. Even if it's just an extra $25 here or $40 dollars there. Put it towards your loan – any loan, home auto, credit card. You'll appreciate the return in the end.

Emergencies happen to everyone. And an emergency savings will save a lot of panic and stress. Since this experience we realized how important it was to have an emergency fund. Possibly more beneficial to or mental health than anything else. We've started a separate savings that we add in any extra money we can every month. These little amounts really add up and we reached our goal of $1,000 in savings in 15 months. And have been able to continually contribute to it. This allows me to go to sleep with peace of mind every night.

Don't be afraid to ask for help. Between the advice from a friend about insurance reimbursing towing and the friendly credit union, we were able to get our car fixed with the least amount of damage to our bank accounts. If we were too afraid to speak up about our situation and decided to put these charges on a credit card, or worse, taken out a payday loan. We'd still be trying to pay that off with the excessive interest rates that those loans can come with.