Week 4: Financial Housekeeping Challenge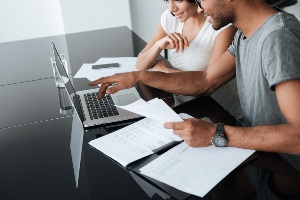 During the fourth and final week, we'll be planning ahead now so you can save time later. Let's get started!
Connect Accounts at Other Financial Institutions
If you have accounts at more than one financial institution, it's likely that at some point you'll need to transfer funds from one account to the other. If you have an online account with each financial institution, and you are the primary account holder on each account, you can set up external transfers. This is a process that can take a few days, so it's best to do the legwork before an emergency pops up, although, once set up, a regular external transfer does usually take 1-2 business days to complete. The good news is that there is no cost for all external transfers initiated from your IHMVCU account. To start the process of linking your accounts, log in to Online Branch from a laptop or desktop computer, and select Move Money, then External Funds Transfer.

Research How to Transfer Emergency Funds to Family
Transferring funds from your IHMVCU account to another member's account is quick and simple using your Online Branch account. You need to have the person's account number and know how their last name appears on their account. Then you will need to select if the funds should go to their Regular Share/00 or their Share Draft/10.

If you need to transfer funds to an account outside of IHMVCU, research a few Person to Person/P2P cash apps – such as Venmo or PayPal – and decide which one meets your needs. Doing the prep work now can save a lot of worry if you suddenly need to get money to someone in an emergency.

Determine Who Needs Access to Your Funds In Case of Emergency
It's a topic we love to avoid. But if you pass away or become incapacitated, will anyone else need access to the money in your account? Consider adding a joint member to your checking or savings accounts, preparing power-of-attorney paperwork or adding a beneficiary. When adding a joint name to the account, keep in mind that you must have complete trust in this person. The biggest risk here is someone who is joint on your account can legally drain your account. A power of attorney (POA), on the other hand, is typically limited to certain types of financial transactions and can only legally act on your behalf when you are temporarily/permanently found not to be of sound mind or in the event of your death. While there are free forms (which need to be notarized) to designate a financial POA, it's in your best interest to consult a lawyer when completing POA paperwork.

Set Up a Mobile Wallet
A perk of a smart phone or smart watch is their ability to create a mobile wallet where you can store credit cards, reward cards and even gift cards. It's convenient and allows you to keep easier-to-steal plastic at home. Mobile wallets can be used to make hands-free, pandemic-friendly transactions as well. Just make sure your smart device is password, thumbprint or face ID protected, otherwise you're giving a thief very convenient access to your accounts.

Challenge: Investigate Insurance Coverage
You're probably thinking to yourself, "Done and done! I already have home, auto and health insurance." But here are a few questions to consider:
While that may be the case, how much to do you really understand about your insurance coverage?
Do you understand insurance catch phrases and lingo?
Do you have whole or term life insurance? Do you understand the differences?
Do you have enough in savings to cover your health insurance deductible?
Do you have or even need long-term care insurance or disability insurance?
When's the last time you spoke to a financial expert to become educated on insurance options? Or taken advantage of a free insurance quote to make sure the protection you signed up for is still the protection you need?

This challenge cannot be completed in a single day. The idea is just to get you thinking about your next steps in your financial plan. Start making lists. Organize these lists by making the type of insurance policy (auto, home, health, etc.) as the heading. Make notes on key points from the policy, such as rates, terms, deductibles. Then start listing your questions. There are no dumb questions. Each question is just the next step to financial empowerment. Unsure of who to direct your questions to? Start with the company that holds the plan/policy.