New Moms in the Time of COVID-19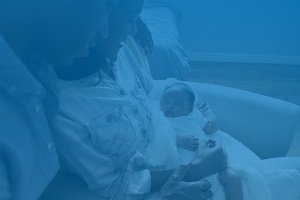 New mamas and soon-to-be mamas, at nine-plus months pregnant, I feel confident speaking for all of us when I say, this isn't what we planned for. We knew having a baby would come with lots of joy and happiness. We also knew it would come with anxieties and fears we'd never experienced. But this? This is a new level. Yes, it's a new level for everyone, and many people have other factors outside of COVID-19 that make quarantine more complicated. But being a new mom right now? That's a big one.
There are plenty of articles and blog posts out there that focus on why this is a scary time to bring a child into the world. No doubt, that's true. But instead of reiterating all of that here, let's address some of the typical concerns and ways we can handle them proactively or seek out assistance. Read on for a few of the resources I'll be using to address common new-mama concerns that have taken on a different meaning during the pandemic.
If breastfeeding is a concern
I've seen mamas to whom breastfeeding came naturally, and I've seen others struggle. There's no way to know how successful you'll be before your little one arrives (and there's no shame in breastfeeding or not breastfeeding – for any reason). Personally, I plan to give it a go, but I also bought some formula to have on hand in case it doesn't work out. Knowing that I have it if I need it is a huge comfort. It looks like Enfamil is still delivering, as well as Walmart and Amazon. Facebook Market place is also a good resource for buying formula and for selling it if you don't end up using it. Additionally, if you'd like some tips on tackling breastfeeding, many lactation consultants and postpartum doulas now offer virtual sessions.
If you need help integrating your pets
My dog is my world. Since we found out I was pregnant, I have referred to my dog as my firstborn. I am not ashamed that I will do almost anything (mostly within reason) to ensure she and the baby peacefully co-exist, at the very least. I originally inquired about training, which we still plan to do, but one of the trainers led me to Pitter Patter Parenting. Alicia Obando has expert advice on things to do before your baby comes and after he or she arrives to help make the transition as smooth as possible for you and your pet. And, at least for now, she's offering virtual sessions. Is this a luxury? Yes, it is. No doubt. But having some tools in your toolbelt might be worth the $150 for two sessions to avoid adding stress to a stressful situation that already has added stress.
If you need some extra support
I understand that the baby is likely your priority. But, if you don't also prioritize yourself, you're not doing your baby any favors, either. Postpartum depression and postpartum anxiety are real, fairly common and nothing to be ashamed of. They don't take a Coronavirus break, and, in fact the pandemic could heighten some of these feelings. It's important to seek help if you need it. Once again, taking advantage of a virtual therapy session might be your best option under the circumstances. If you're watching your budget (who isn't?) consider looking into social workers who offer therapy, as they're often less expensive than psychologists. Or see if your employer has some free therapy options.
If you'd like some expert advice
Sometimes, you just need someone to tell you if you're doing the right thing. If this is the first baby for you and your partner, you might feel more comfortable having a third-party weigh in. Conversations with your family and friends can certainly be reassuring, and if your questions are medical in nature, call your pediatrician. But for the day-to-day, you might enlist the help of a postpartum doula. As we don't have family in town, we planned to have a postpartum doula come give us some guidance after our baby is born. Although they still offer in-person help, they now also have virtual sessions, which we plan to take advantage of as needed.