Scams to Avoid During the Coronavirus Pandemic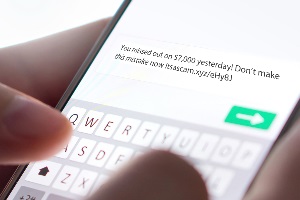 "Hi there, Last reminder you won {Redacted} tricket [ticket] #WIN691 giveaway! Accept your $50+ bonus. Get here: {redacted URL}/356744454 Expires Soon. Reply Stop to Opt Out"

Anyone else notice an uptick in fraudulent text messages like the one above since social distancing began? I received this one today, as I'm writing this post, but have received several variations over the past month. The .xyz domain of the URL was immediately suspicious to me. It looked like a 'shorted URL'. Learn more about recognizing and reporting suspicious text messages.

Sadly, there are some nefarious people making it just as important to protect our identity and our wallets in addition to our health during this pandemic. So, we've put together some tips on how you can avoid coronavirus scams.

Don't respond to calls, texts or emails regarding stimulus payments

We've all seen the humorous videos of people anxiously waiting by their mailbox for their stimulus payment. The reality is that check really does mean rent or food on the table. Don't risk that financial gift by falling victim to scam.

ONLY use irs.gov/coronavirus to submit information to the IRS. If your money was deposited into your bank account and you receive notice that you need to send it back because you were overpaid, it's a fake check scam.

Pro tip: Don't reply to fake text messages. By replying, you are confirming your phone number is valid and you will probably be targeted more. If your phone has a "report as SPAM" feature, use it.

Beware of ads for test kits

If you've been listening to daily addresses by Governors Reynolds and Pritzker, you already know test kits are available only through a doctor's orders and are limited. These scam kits are not FDA approved, nor are they likely to be accurate.

Similarly, ignore online vaccination offers.

Currently, there is no coronavirus vaccine. You better believe this will be breaking news on all major, reputable news sources when a vaccine is ready.

Use credible news sources only

Along with increased text spam, your email spam is probably blowing up as well. Don't click on any links in your email if you aren't confident of the source. The CDC and WHO have both been spoofed in coronavirus phishing scams.

Instead, bookmark and visit credible sites for your go-to coronavirus information, such as:
Ignore robocalls

Do yourself a favor and just hang up on these false pitches for low-cost health insurance, work-at-home schemes and any other too good to be true offers. If you didn't give a company permission to call you, it's probably illegal or a phone scam. Don't trust your caller ID either, those numbers can be spoofed.

Do your homework before donating

Yes, several non-profits and charities are in sincere need of financial assistance during this pandemic. This, unfortunately, allows scammers to prey on our emotions.

Do a web search for the organization you are considering donated to, adding phrases like "complaint", "review," "rating" or "scam" to your query.

Never make a donation in cash, by gift card or by wire transfer. If donating online, be sure to read the term to make sure you know who will actually receive your gift.

Most importantly, never be rushed into donating. A charity will be grateful for your donation if and when you decide to make it. They're in the business of cultivating donors, so it's not in their interest to pressure you.

Be wary of Facebook friend requests

This one happened to me a few weeks ago. I got a friend request, from someone I thought I was already friends with. We hadn't spoken in a while, and he nicely sent me a Facebook message asking how I was handling social distancing. Seemed innocent enough, except this was a hacker trying to assume my former boss's identity – and eventually mine by taking advantage of my assumed vulnerability. Always block and report any Facebook profiles that don't seem quite right. This holds true for any social media platform.

Don't forget, there is a lot of inaccurate information floating around the internet. For more credible information on coronavirus scams, please visit https://www.ftc.gov/coronavirus/scams-consumer-advice.

If you fall victim to a COVID-19 related scam or any scam, please report it. Reporting fraud raises awareness and help stop these criminals.