Five ways teach your college student MoneySmarts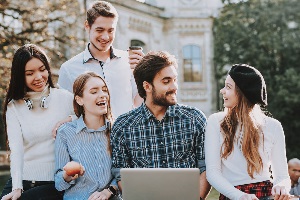 Pretty soon, your new high school grad will fly the coop and head off to college for the first time.
As parents, this moment can be bittersweet. You're proud of them, but you worry too. You've prepared them to take this step toward advancing their future. Now make sure they've got the financial smarts to make it on their own and be successful.
Encourage them to get a part-time gig on campus.
Campus jobs are a great option for any college student looking to make money. Plus, they save gas money and travel time compared to an off-campus gig. Talk to your student about picking up shifts at the college bookstore during its busiest times (usually at the beginning and end of each semester) for some extra cash going into the start of the year or winter break. If your student's more of a night owl, have them explore the night shifts available on campus. Libraries are always open, dorm front desks need to be monitored 24/7 — even the college theater box office can have long hours. These late-night shifts can be perfect to earn cash while having the peace and quiet to study.
Review their budget and set reminders.
When your student got their first job, you likely helped them set up a budget for their newly acquired paycheck. But the newfound freedom and excitement that comes with college living often means that budgets can quickly derail. Offer to take a look at your student's spending habits together. If you begin to notice a pattern of 2 a.m. pizza purchases (to fuel those late-night study sessions), have them set a 2 a.m. phone reminder to NOT order pizza. Another option is to have them download our Mobile App as an easy way to track their spending on the go.
Have some (free) fun.
The occasional splurge to celebrate a friend's birthday, go to the mall or take in a concert is completely normal. But let's face it: College students aren't typically made of money, and there are plenty of free things to do right on campus. Many student groups host various events and activities, and the colleges themselves often bring in comedians, musicians and more for students to enjoy. Or, have your student check out the local community calendar for free events.
Start a side hustle.
Encourage your budding entrepreneur to use what they're learning in school to make some money on the side. Graphic design or photography students might be well-suited to setting up an Etsy shop to sell their art. Or, maybe your student is working toward a degree in journalism or graphic design. Freelancing could be a natural fit.
Apply for FASFA.
Don't pass up on the free and/or cheap money that's available — fill out the FAFSA (Free Application for Federal Student Aid). Aid is available to anyone with a household income below $250,000, so most students qualify. The FAFSA form opens on October 1 each year for the next academic period, with this year's filing deadline set for June 30.
No matter your student's academic path, teaching them to take control of their cash will be invaluable through college and beyond.