'Tis the Season for Holiday Shopping Deals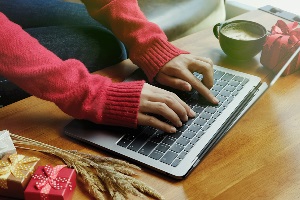 What do Black Friday, Cyber Monday and Giving Tuesday all have in common? All three have the potential to make or break your year-end budget. Here are some tips to help prevent you from getting snowed under by these shopping promotions.
Let's Start with a History Lesson
Black Friday
Black Friday has become synonymous in American culture with the day after Thanksgiving. Many of us, myself included until doing a little research, assumed the moniker came to fame boosting sales by offering discounts that would allow retailers to end the final weeks of the fiscal year "in the black" – or with a profit. Seems logical, especially since Black Friday deals start earlier and earlier each year. But it is actually the Philadelphia Police Department that gets the credit for naming this infamous shopping day.
Much before Black Friday was common nomenclature, retailers were known to end the season with "can't miss" deals. Think the Macy's Thanksgiving Day Parade, dating back to 1924, to promote sales. One particular post-Thanksgiving shopping weekend in the 1950s or 1960s coincided with the annual Army-Navy football game, resulting in increase traffic, large crowds and shoplifting. The officers were forced into long shifts to control the crowds, referring to the onerous day as "Black Friday."
Cyber Monday
The National Retail Foundation gets credit for naming this more recent shopping phenomenon, taking place the Monday after Thanksgiving, with a 2005 press release stating:
"For the past few years, online retailers have found that sales on the Monday after Thanksgiving have been creeping higher, giving retailers an additional reason to be jolly during the ceremonial kickoff to the holiday season."
A Deloitte annual holiday study estimates that 53% of people will rely on Cyber Monday deals, while 44% plan to shop Black Friday. The study also finds that shoppers will "spend $1,496 per household this holiday season."
Giving Tuesday
Giving Tuesday began on the Tuesday after Thanksgiving in 2012 with the philanthropic intention of launching holiday charitable giving. According to GivingTuesday.org, the tradition "started as a day for anyone, anywhere to give, and it's grown into the biggest giving movement in the world." As you might guess, #GivingTuesday is heavily influenced by social media.
Budget Friendly Shopping Tips
Black Friday
Black Friday is ideal for big-ticket items, such as TVs and appliances. You'll find the best deals from large retailers such as Walmart and Best Buy on Black Friday – both in store and online.
Plan a shopping schedule that doesn't interfere with Thanksgiving plans with your family – those chosen or those designated by birth. Now that Black Friday sales begin Thursday afternoon, my best friend and I shop while her kids are napping so we don't miss out actually celebrating Thanksgiving.
Plan your attack by reviewing store circulars and websites. I divide such ads into a must shop at, if there's time and places to avoid pile.
Have specific people in mind to shop for (this list can include yourself) and assign a budget to each person. Stick to that budget
As important as budgeting, decide how you'll be paying for your purchases. Cash? Credit? It can be very tempting to open a store credit card for extra discounts and even to avoid long checkout lines – this may have been a lesson I learned personally at Kohls one Black Friday in my less money-wise years.
Cyber Monday
Cyber Monday is ideal for your tech needs and gadgets.
Don't mind second-hand items? Cyber Monday could be for you. Many people are already online selling their Black Friday purchases that they can't return to the stores.
Amazon is probably the one exception to larger retailers with better deals on Cyber Monday than Black Friday, especially if you have a Prime account and will benefit from free shipping.
If you don't have it already, add the browser extension Honey to your computer, or download the app. It's free and will automatically scour the internet for coupon codes for you at check-out.
Be smart online. Only make online purchase from a secure internet connection rather than a public Wi-Fi connection.
Giving Tuesday
Giving Tuesday preparation should start prior to Black Friday. Your charitable giving budget should be taken into consideration along with your shopping budget to ensure you don't break your bank.
The spirit of #GivingTuesday can take place year-round. For instance, I tend to do the majority of my Cyber Monday shopping using Amazon Smile. That way, Gilda's Club Quad Cities (or the charitable organization of your choice) gets 0.5% of my AmazonSmile purchases. And rather than limit the donations to Cyber Monday, I've replaced the Amazon app on my internet-ready devices with the AmazonSmile bookmark so Gilda's Club can benefit from my online shopping habits year-round.
No matter which day (or days) you're shopping, make sure you have a list and a budget. And stick to both!