One Couple's Journey to Setting a Budget & Paying Down Debt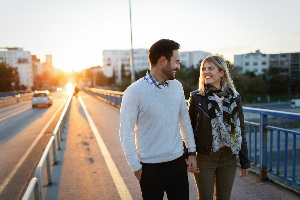 Have you heard of IHMVCU's $50 budget challenge? If so, that was me! I hesitated at first because I hadn't ever tried to budget $50 for a whole work week. Gas and food were obviously my first concerns. Living 25 minutes away from work made my daily commute 50 minutes and with a V8 engine, I wasn't sure how I was going to make this happen.
My team at IHMVC gave me a crisp $50 bill and wished me luck. Between multiple gas station stops, a grocery store trip and a shameless visit to KFC, I ended up being almost $4 over after the week was up.

The budget challenge was an eye-opening experience for my husband and me. It sparked productive conversations about our debt and bills. And most importantly, it made us realize that making a budget would help us reach our financial goals much faster.

Like most people, we have credit cards that have balances on them. (Scary fact: the average American household has around $6,913 worth of credit card debt, according to nerdwallet.com) When we first got our shiny new cards in the mail, they only had a credit limit of $500 on each of them which we found easy to pay off. But as our credit scores and incomes went up, so did our credit limits and spending. Soon enough we found ourselves carrying balances. Throw a mortgage, car payments, utilities and such into the mix and we've found how important it is to budget.

Here are a few tips we've learned along the way:

Make a budget. I've found this budgeting spreadsheet super helpful. And my husband and I have already added $100 to our savings and paid an extra $50 toward debt.
Eat at home. It may not sound as appetizing, but a home-cooked meal is better for the bank account and the waistline. With Pinterest, you can find endless new recipes to try out.
Budget for gas. Yes, gas is a necessity to get to and from work, the store, etc. But do you really need to hop in the car for a Target run? By having a budget for gas, I think twice before just hoping in the car knowing my tank needs to get me to and from work the rest of the week.
Stash away the cash. This goes for everyone but especially those just starting their first jobs. Take a little from each paycheck and put it in savings. With online banking, this is so easy to do. Just set up automatic transfers. In addition to going to high school, I worked 40 hours a week at Menards and to this day, I regret not saving more. What was I thinking buying that Michael Kors bag? Saving my money would have been much smarter.
Talk to someone. Working for a credit union has opened my eyes and ears to a wealth of knowledge about saving and spending. But you don't have to work for a credit union to get it. Just stop by a branch or ITM and chat with me or a fellow team member. We'll help you out.

Setting up a budget and following my own advice is helping my husband and I achieve our goal of being debt-free and finally starting that emergency fund.