Make Working from Home Work for You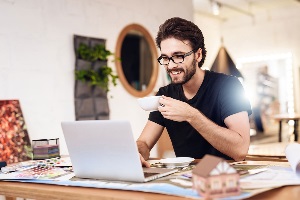 In our increasingly digital world, it's becoming easier – and sometimes necessary – to work from home. Working from home offers benefits for employers and employees, including parents who need more flexibility, people with disabilities for whom the office lifestyle is not conducive, or those who simply prefer to work from wherever they please. If you're interested in making the switch from the office to your kitchen table, here are some companies and careers that offer plenty of work-from-home opportunities.

Amazon
Amazon Jobs page has an entire section of "Virtual Locations" where they list remote work opportunities. Most openings are for full-time work and include a variety of fields, such as IT support, sales, human resources, public relations and more. Sign into your Amazon account to find your new job today.
Travel agent
You might have thought we left them behind with landlines and typewriters, but travel agents are still in high demand. Travelers visiting new and remote places often need help planning transportation, coordinating flights, and sometimes they just want suggestions on what to do when they get to an unknown place. For those with a passion for new places and people, this work is a great fit. Not to mention, travel agents are often the first to know about discounts on flights and hotels, and who's to say you couldn't take advantage of some of them yourself? Check out Indeed, SimplyHired and other job search engines to find opportunities, or engage your entrepreneurial spirit and start your own agency.

Writer or copy editor
Writers and copy editors can find vast and varied work-from-home opportunities. Some of the work is more creative – contributing to a blog or writing short stories. Other jobs are more technical – proofreading medical transcripts or writing instruction manuals. Some fall in between, such as writing articles for a local publication. Whatever your preference, the work is out there, and all you need is a computer and an Internet connection – and the proper training and skillset, of course. Indeed posts many remote writing and editing opportunities, as does ProBlogger and Upwork. Many employers request online portfolios, so be sure to set one up. Check out Clippings.me, which is specifically designed for writers.

Graphic designer
A skilled creative with a computer, the proper design programs and an Internet connection can set up a work-from-home business with a little hard work, networking and Googling. These days, the vast majority of a designer's work, if not all of it, happens on the computer. Why not work from the comfort of your own home, your favorite coffee shop or whatever space inspires you? Indeed and Upwork post plenty of remote graphic design work opportunities. Also, be sure to set up a website (and include the address on your resume). Samples are key to getting hired in this industry. Wix is a great place to start.
Airbnb Host
Have you always dreamed of owning your own bed and breakfast in the countryside? Are you still saving up to make that dream a reality? Never fear – rent out your extra room, and gain some hospitality experience, so you're ready when the day comes. Spruce up your guest room or transform that shed in your backyard, buy an extra coffee maker and some toiletries, and set up a profile on airbnb, VRBO or One Fine Stay. You're nearly ready to host guests, hone your skills and make some money.

Etsy
Maybe you crochet amazing blankets and hats and other warm things. Or, perhaps you bake the best cookies or paint beautiful pictures or build amazing furniture. Whatever your artistic talent, someone somewhere wants to buy what you're making. Set up an Etsy shop to share your craft with the world. Pro tip: To start with the upper hand, do some research on keywords and search engine optimization to help your site show up more frequently in searches.

Pet sitter
Does it get better than having a bunch of dogs in your house? If animals are your passion, this is a great way to work from home, or pet sitting could even be an ideal second job. You can create a doggie daycare or offer boarding opportunities, and decide if you want to also offer to stay at the owners' houses. Set up a profile on Rover or Wag to get started.

Virtual assistant
This quickly growing field was designed for the Virgos, Tauruses and Aries among us; aka the organized ones. Many virtual assistants function as at-home administrative or personal assistants and perform tasks, such as responding to emails, providing customer service, coordinating calendars and scheduling meetings. Some act as social media managers or design email templates, update websites and more. Many companies post virtual assistant openings on job search engines, such as Indeed or Monster. Apply to work with Fancy Hands and Belay, which have teams of assistants who respond to requests on a task-by-task basis or work on long-term projects.

Tips for Remote Workers
While you're sitting in an office, working from home can sound like an ideal situation. But, like anything else, it comes with its challenges. If you're ready to make the switch, here are a few tips to ensure success in your new work environment.
Get out of the house at least once a day. Meet a friend for lunch, work from a coffee shop for a few hours (or all day) or just take a walk around the block. Being anywhere for 24 hours or more is too much, even in your own home.
Remove distractions. Home might be your haven, but there is always something that needs to be done – finish your laundry the night before. Do your dishes first thing in the morning. Walk the dog during your lunch break. Make sure you can focus fully and intentionally on the work at hand.
Designate a space just for work – and nothing else. You don't want to be reminded of your looming deadline while attempting to enjoy dinner, so don't work at the kitchen table. Set up a desk (in a separate area, if possible) that you use for work and work only. At the end of the day, leave it, and don't return until you punch in the next morning.