What's Your Diagnosis?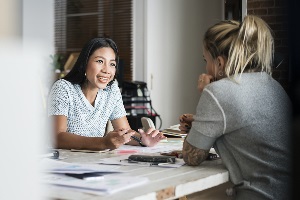 Remember when you walked in the doctor's office and asked for Amoxicillin, and your doc said, "I just sent the prescription over to your pharmacy, have a good day" and sent you on your way? Me either! It's the doctor's duty to ask questions, evaluate your vitals and symptoms, and make a solid decision based upon those facts. Next, your doctor shares a diagnosis and treatment plan. This is based upon the specialized training he or she has been through and using that knowledge to put you in the best position possible. Most of the time, you take that advice and hopefully you've solved short- and long-term problems. You usually stop in to see good ol' doc once a year for a checkup just to make sure you're staying on the right track as well.
When you come to IHMVCU, we aren't much different in that aspect. No, we cannot prescribe you medicine or help with physical ailments. However, we can certainly assist with your financial health! When you visit one of our locations, you may notice we're asking you more questions than you're used to hearing from us in the past. What happened? We're not trying to offend or be nosy, but we need to start asking more specific questions to help set you up for success. We care about your financial well-being – the saying that money makes the world go 'round isn't very far off. Without a solid game plan for saving, establishing and maintaining a solid credit score, and healthy spending, there can be some severe consequences for our members and that's the last thing we want.
So, when your friendly banker wants to know more about where you have your auto loans, mortgage, and how you pay for your everyday purchases, please allow them to assess your current situation and make their diagnosis based upon the specialized training they've been through. We aren't judging you – we all have our habits like Whitey's, Starbucks and Amazon. What we truly want to know is how we can help set you up for success today, tomorrow and much further down the road.
If you're living paycheck to paycheck, no judgment here. We want to help you create a plan to relieve the stress that can come along with living paycheck to paycheck. It goes further than that, though! We also want to know about your two kids who love to swim, your husband who you met while studying abroad, and your adorable puppy named Chuck. We want to see pictures of the cute new house you just bought, what color you're painting the bathroom, and the car you've been dreaming of.
We want you to know you're more than an account number – you're a member of our credit union, and of our family. Because we value your membership and care about you, we're committed to helping you make healthy financial choices and will always be a phone call away when life throws you a curveball. Move Up with us is not just a catchy slogan – it's our promise.