How to Protect Yourself from ATM Fraud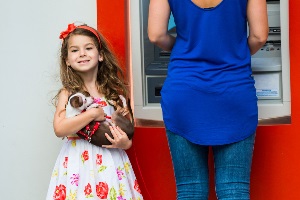 You're careful with your sensitive information – you cover your PIN when you make a transaction with your debit card, you don't give out your social security number willy-nilly and you've never fallen for that Nigerian prince email scam. You're even cautious about using your card at sketchy pay-at-the-pump gas stations.

But are you protecting yourself from ATM fraud?
Fraudsters are now placing skimming and shimmer (nope, we're not talking about the latest dance trends) devices on otherwise trustworthy ATMs in attempt to steal your card information.

ATM Skimmers
Devices that are placed on the front of an automatic teller machine (ATM) to capture your card number, PIN and other information. They're usually placed over or near the machine's real card reader and blend in with the machine, making it hard to tell whether or not the machine has been compromised.

ATM Shimmers
These function similarly to skimming devices, but are instead located inside the machine's real card reader. They read your card's information while it's in the machine.

Scam technology is getting smarter all the time, but there are a lot of ways you can protect yourself and your bank information.

Here's how to keep your card safe at the ATM.
Check for skimming devices
Wiggle the card reader and make sure it doesn't feel loose. Since skimming devices are usually placed over the machine's existing parts, give a little tug before you insert your card. There shouldn't be any give on a real ATM card reader or loose attachment stuck to the machine.

Cover your PIN
When you input your PIN, guard the keypad with your other hand, even if there's no one else around. Fraudsters have been known to install cameras to the front of ATMs to record unsuspecting users as they input their personal information. This is generally good practice for anywhere you use your card.

Have someone inspect the ATM
If you're suspicious of a machine, have a bank/credit union staff inspect it before you use it. They should be just as concerned about security as you and will be more than willing to make sure their machine hasn't been compromised.
Avoid outdoor or public ATMs
If no one is around, outdoor ATMs are an easy place for fraudsters to attach skimming devices and make a quick exit. The best way to keep your info safe is to use ATMs located inside your preferred branch or in a well-trafficked indoor area.

Want more ways to protect your sensitive information? Read our blog on avoiding skimmer scams.