Buying My First Family Car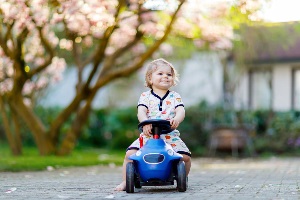 Picture this: seven months pregnant and waddling into the dealership. It was pretty obvious my husband and I had a ticking timeline for needing our first "family car." But we weren't about to be schooled by some salesman that thinks we're too afraid to walk away without a car. So, we came prepared.
1. We got pre-approved from our credit union.
We knew exactly what we could afford and what our interest rate would be. We also compared this to our budget to see what we were comfortable spending. After all, there was a baby on the way – we didn't want to stress over money while sleep deprived.
2. We did our research.
We knew we needed something bigger than the sedans we were used to driving (bye-bye, Fred the Ford). Based on feedback from friends and family as well as a bit of Googling, we decided to look at Mazda and Hyundai. Both had great safety ratings which was this momma-to-be's top priority.
3. We didn't mention our trade-in (or lack of one).
We already sold Fred and I was borrowing a family friend's car, but the car salesman didn't need to know that. That would have given us less negotiating power since it was even more obvious we needed a new car, and quickly.
Even if you have a trade-in, don't mention it until after you've agreed on a price for your next car. Treat the new purchase and trade-in as two separate transactions so you can get your new purchase for the lowest possible price —and your trade-in for the highest possible price.
4. We negotiated.
This can happen before you even step in the door. We reached out to a couple of dealerships via email to let them know what we were looking for and to get a quote. Since we did our research we knew a price point we wouldn't exceed.
We lucked out – one of the salesmen that responded happened to go to high school with my husband – small world. While they hadn't spoken in years, this made us feel comfortable knowing we had someone on our side. It didn't keep us from negotiating though. Hubs insisted the dealership throw in all-weather mats and roof racks. I didn't think they were a huge deal but, boy, am I glad we have them now. Do you know how much you have to pack for a weekend away with a baby?! Now, we can throw most of the big stuff on top of the car. Not to mention the easy-to-clean, all-weather mats are the ones covered in crushed cheerios and not the carpeted floors.
5. We didn't hesitate to walk away.
Before we made it to the dealership that we bought our car from, we visited another. After doing a test drive and finding the car we knew we wanted, we didn't let pressure make us jump into a decision. We thanked the salesman for his time and said we'd be in touch. By walking away, we gave ourselves time to make sure this was truly the car we wanted and that we were comfortable spending a big chunk of change on. The extra day or two also led us to another dealer to get the same car at a better price.
If you're heading to the dealership this Memorial Day Weekend, make sure you're prepared. If you have any questions or need help with the pre-approval process, we're here to help. Give us a call at 309-793-6200 or stop by one of our locations.